»

Recipes

»

Chocolate-Dipped Marshmallow Wands
Chocolate-Dipped Marshmallow Wands Recipe
Watch these marshmallow wands magically disappear.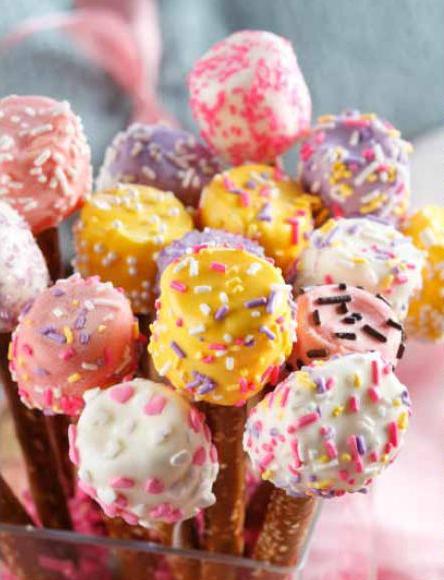 Ingredients
Marshmallows

12 Large

Twelve 6- to 8-inch pretzel rods

4 to 6 squares white candy coating or white almond bark

Powdered food coloring in assorted colors

Assorted sprinkles and candy decorations
Directions
Let's make marshmallow wands!
1. Insert a craft stick or the end of a butter knife into one end of each marshmallow to create a small opening for the pretzel. Insert a pretzel rod into each marshmallow and place on a foil- or parchment paper–lined cookie sheet.
2. Melt the candy coating or almond bark according to the package directions. Remove from the heat and cool for 5 minutes. Divide the melted candy among several bowls and add a different color of powdered food coloring to each. Stir with a spoon to blend.
3. Dip each marshmallow into a different color of candy coating and decorate with assorted sprinkles and sugars. Place each wand back on the cookie sheet and freeze uncovered for 15 minutes.
4. Cover the wands and store in freezer up to 8 hours.
5. Remove from the freezer and thaw for 5 to 10 minutes before serving.
This recipe has been excerpted from
Barbara Beery's Pink Princess Party Cookbook
. To purchase this book visit,
KidsCookingShop.com
.