»

Recipes

»

Bread

»

Chocolate Date Nut Bread
Chocolate Date Nut Bread Recipe
Chocolate Date Nut Bread is an exquisite bread that is perfect for your parties. Trust me this yummy Chocolate Date Nut Bread is a wonderful treat especially if you are looking for something new and different.
Date And Nut Bread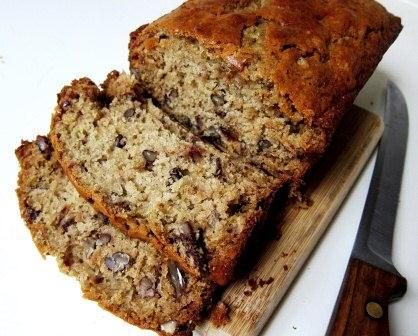 Ingredients
Boiling water

3⁄4 Cup (12 tbs)

Sliced pitted dates

1 Cup (16 tbs)

Semisweet chocolate pieces

6 Ounce

(1 Package)

Butter/Margarine

4 Tablespoon

Egg

1

Milk

3⁄4 Cup (12 tbs)

Vanilla extract

1 Teaspoon

All purpose flour

2 1⁄2 Cup (40 tbs)

Sugar

1⁄3 Cup (5.33 tbs)

Salt

1 1⁄2 Teaspoon

Baking powder

1 Teaspoon

Baking soda

1 Teaspoon

Walnuts

4 Ounce

, coarsely chopped (1 Can)
Nutrition Facts
Serving size: Complete recipe
Calories 4023 Calories from Fat 1592
% Daily Value*
Total Fat 185 g284.2%
Saturated Fat 73 g365.1%
Trans Fat 0 g
Cholesterol 357.4 mg
Sodium 4835 mg201.5%
Total Carbohydrates 553 g184.4%
Dietary Fiber 28.1 g112.5%
Sugars 272 g
Protein 66 g131%
Vitamin A 39.1% Vitamin C 3.5%
Calcium 82.6% Iron 116.2%
*Based on a 2000 Calorie diet
Directions
1. Preheat oven to 350°F. Grease 9" by 5" loaf pan. In small bowl, pour boiling water over dates; set aside. In heavy 1-quart saucepan over low heat, melt chocolate with butter or margarine. In small bowl, beat egg with milk and vanilla just until mixed.
2. In large bowl, mix flour and remaining ingredients; add dates and liquid, chocolate and milk mixtures; mix just until blended. Spoon batter evenly into loaf pan.
3. Bake 1 hour and 10 minutes or until toothpick inserted in center comes out clean. Cool bread in pan on wire rack 10 minutes; remove from pan and finish cooling on wire rack.