»

Recipes

»

Bread

»

Chocolate Date Nut Bread
Chocolate Date Nut Bread Recipe
A Chocolate Dale Nut Bread recipe any cook can try out. This Chocolate date nut bread is soothing to the eyes as it is to the palate. Try it at your leisure!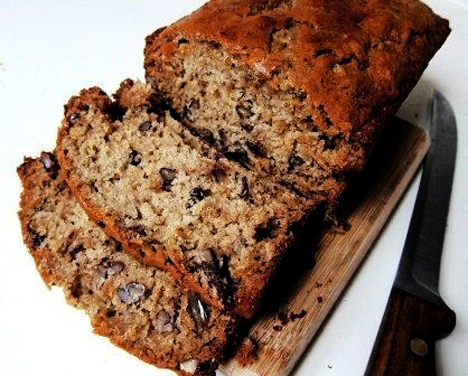 Ingredients
Unsweetened chocolate square

2

Hot water

1 Cup (16 tbs)

Dates

1 Cup (16 tbs)

, chopped

Pecans and walnuts

1/2 Cup (16 tbs)

, chopped

Baking soda

1 Teaspoon

Shortening

1/4 Cup (16 tbs)

Sugar

1 Cup (16 tbs)

Egg

1

All purpose flour

2 Cup (16 tbs)

Salt

1/2 Teaspoon

Vanilla extract

1 Teaspoon
Directions
Combine chocolate and water in top of a double boiler; bring water to a boil.
Reduce heat to low; cook until chocolate melts.
Stir in dates, pecans, and soda; cool.
Cream shortening; gradually add sugar, beating well.
Add egg, and beat well.
Combine flour and salt add to creamed mixture alternately with chocolate mixture, beginning and ending with flour mixture.
Stir in vanilla.
Pour batter into 2 greased and floured 28 ounce fruit cans.
Bake at 350° for 1 hour or until a wooden pick inserted in center comes out clean.
Cool in cans 10 minutes; remove from cans, and cool completely.