»

Recipes

»

Chocolate Date Cookies
Chocolate Date Cookies Recipe
Chocolate Date Cookies made with this recipe looks nice in addition to tasting great! These cookies makes a compelling snack for most tea parties. This Chocolate Date Cookies is a lovely way in which you can express your gratitude to your aunts, moms, grandparents and friends for teaching you recipes. Try it out!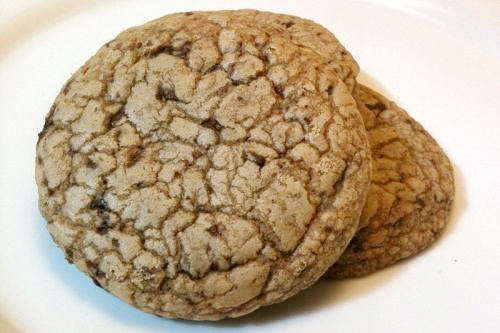 Ingredients
All purpose flour

3 Tablespoon

Superfine sugar

1⁄2 Cup (8 tbs)

Baking powder

1 Teaspoon

Eggs

2

Dates

1⁄2 Pound

, pitted

Walnuts

1⁄2 Cup (8 tbs)

Bitter chocolate

1⁄2 Cup (8 tbs)

, finely grated

Ground cinnamon

1⁄2 Teaspoon

Demerara sugar/Light brown cane sugar

3 Tablespoon

Butter

1 Tablespoon
Nutrition Facts
Serving size: Complete recipe
Calories 2379 Calories from Fat 701
% Daily Value*
Total Fat 81 g124%
Saturated Fat 28.8 g144.2%
Trans Fat 0.1 g
Cholesterol 461.6 mg
Sodium 562.2 mg23.4%
Total Carbohydrates 410 g136.5%
Dietary Fiber 29.6 g118.6%
Sugars 329 g
Protein 35 g69.1%
Vitamin A 18.8% Vitamin C 2.8%
Calcium 64% Iron 82.7%
*Based on a 2000 Calorie diet
Directions
GETTING READY
1 Preheat the oven to 320°F.
2 Grease a shallow cookie tray or jelly roll pan about 9 in wide with butter and dust with flour, tipping out excess.

MAKING
3 In a large mixing bowl, sift the flour with the sugar and baking powder.
4 In another bowl, beat the eggs briefly with a whisk.
5 Chop the dates and walnuts together coarsely and mix with the eggs.
6 Stir in the grated chocolate.
7 Mix the eggs, dates, and nuts with the flour and sugar briefly but thoroughly.
8 Spread the mixture out in the prepared cookie tray.
9 Level with a spatula.
10 In a bowl, mix the cinnamon with the brown sugar and sprinkle evenly over the surface.
11 Bake for about 35 minutes, or until the surface is golden brown.
12 Take out of the oven and let stand for 10 minutes.
13 Turn out onto a pastry board or chopping board.
14 Using a large, strong knife, cut into bars measuring about 4 x l inch.

SERVING
15 Serve as a snack with tea or coffee.