»

Recipes

»

Pie

»

Bran Chocolate Cream Pie
Bran Chocolate Cream Pie Recipe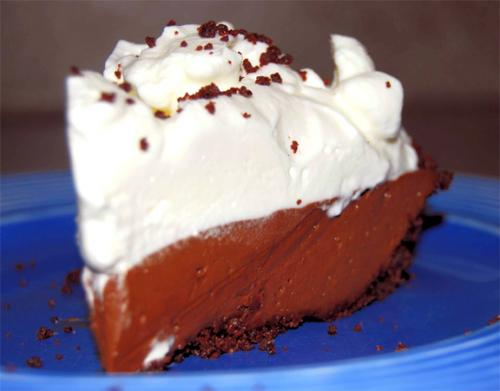 Ingredients
For base

Butter

3 Ounce

(75 Gram)

Crushed cornflakes

3 Ounce

, crushed (75 Gram)

Soft brown sugar

2 Ounce

(50 Gram)

All bran

1 Ounce

, crushed (25 Gram)

For filling

Cooking chocolate

3 1⁄2 Ounce

(90 Gram, Plain)

Water

1 Tablespoon

Gelatin

5 Milliliter

(1 Teaspoon)

Egg

1

, separated

Sugar

1 Ounce

(25 Gram)

Double cream/Whipping cream

150 Milliliter
Nutrition Facts
Serving size
Calories 440 Calories from Fat 295
% Daily Value*
Total Fat 34 g51.8%
Saturated Fat 12.9 g64.5%
Trans Fat 0 g
Cholesterol 65.7 mg
Sodium 162.2 mg6.8%
Total Carbohydrates 36 g12.1%
Dietary Fiber 4.1 g16.3%
Sugars 16.3 g
Protein 6 g11.9%
Vitamin A 15.7% Vitamin C 5.5%
Calcium 2.5% Iron 48.1%
*Based on a 2000 Calorie diet
Directions
GETTING READY
1. Preheat the oven to 375° F, 190° C
2. Grease an 8 inch flan tin or pie dish generously with butter.
3. In a small sauce pan, melt the butter on a low flame. You can also melt the butter in the microwave.
4. Add the cornflakes, sugar and all-bran to the butter and stir until mixed well.
5. Turn the mixture into the greased flan tin and press to spread evenly on the base and side of the tin.
6. Place the tin in the preheated oven and bake for 10 minutes.
7. Remove the flan tin from the oven and leave the base to cool.
8. Grate 2 tablespoons of chocolate and keep it aside for garnishing.
9. In a small cup, soften gelatin in water

MAKING
10. In a small clean and dry bowl, break the chocolate into pieces and place the bowl over a saucepan of simmering water and stir occasionally until the chocolate has melted. Do not allow the bowl to touch the water in the saucepan.
11. Take the bowl away from the heat.
12. Place the cup of softened gelatin in the pan of hot water until dissolved.
13. In a large mixing bowl, beat the egg yolk and sugar until creamy.
14. Stir in the melted chocolate and the dissolved gelatin.
15. In a medium size clean and dry work bowl, whip the cream until stiff.
16. Reserving 2 tablespoons of the cream for garnish, gently fold the remaining cream into the chocolate mixture until well blended.
17. Pour the chocolate mixture into the flan tin and use a pallet knife or a spatula to spread evenly until it covers the prepared crust. Gently tap the flan tin on the work surface to level the filling.

FINALIZING
18. Cover the tin with plastic wrap.
19. Place the pie in the refrigerator for a minimum of 2 hours or until set and chilled.

SERVING
20. At the time of serving, remove pie from the refrigerator
21. Pipe reserved cream using a piping bag with star nozzle and sprinkle the grated chocolate to decorate.
22. Slice at the table.