»

Recipes

»

Chocolate Chip Peanut Butter Brownies
Chocolate Chip Peanut Butter Brownies Recipe
The peanut butter addition to these Chocolate Chip Peanut Butter Brownies is delicious. You can make these Chocolate Chip Peanut Butter Brownies with literally no trouble at all. Enjoy!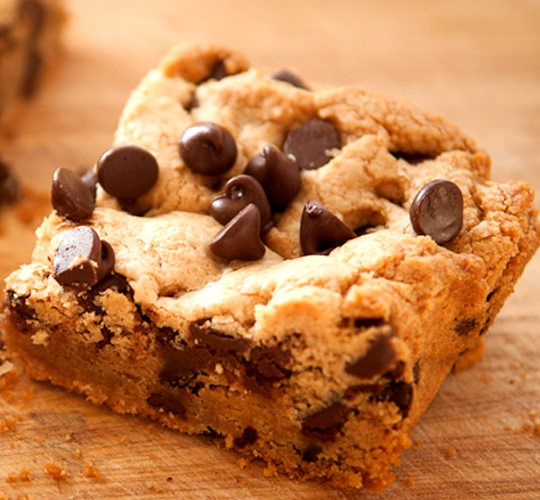 Ingredients
Butter

1⁄3 Cup (5.33 tbs)

, softened

Peanut butter

1⁄2 Cup (8 tbs)

Sugar

1⁄2 Cup (8 tbs)

Firmly packed brown sugar

1⁄2 Cup (8 tbs)

Eggs

2

All purpose flour

1 Cup (16 tbs)

Baking powder

1 Teaspoon

Salt

1⁄4 Teaspoon

Vanilla extract

1 Teaspoon

Chocolate morsels

6 Ounce
Nutrition Facts
Serving size: Complete recipe
Calories 3568 Calories from Fat 1649
% Daily Value*
Total Fat 184 g282.9%
Saturated Fat 84.1 g420.5%
Trans Fat 0 g
Cholesterol 620.2 mg
Sodium 1736 mg72.3%
Total Carbohydrates 448 g149.3%
Dietary Fiber 10.7 g42.9%
Sugars 315.7 g
Protein 55 g109.1%
Vitamin A 47.2% Vitamin C
Calcium 62.3% Iron 65.7%
*Based on a 2000 Calorie diet
Directions
Cream butter and peanut butter.
Gradually add sugar, beating at low speed of an electric mixer until light and fluffy.
Add eggs, one at a time, beating well after each addition.
Combine flour, baking powder, and salt; add to creamed mixture, stirring well.
Stir in vanilla and chocolate morsels.
Pour batter into a greased 8-inch square baking pan.
Bake at 350° for 30 to 35 minutes.
Cool and cut into 2-inch squares.
Image Courtesy :
http://www.flickr.com/photos/epw/6958893813/