»

Recipes

»

Caramel

»

Chocolate Caramels
Chocolate Caramels Recipe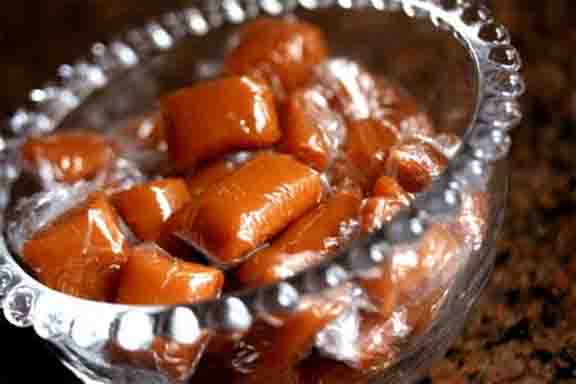 Summary
Preparation Time
2 Min
Difficulty Level
Easy
Ingredients
Margarine/Butter

1 Cup (16 tbs)

Firmly packed brown sugar

2 1⁄4 Cup (36 tbs)

Light corn syrup

1 Cup (16 tbs)

Sweetened condensed milk

14 Ounce

(1 Can Not Evaporated)

Unsweetened chocolate

2 Ounce

, chopped

Vanilla

1 1⁄2 Teaspoon
Nutrition Facts
Serving size: Complete recipe
Calories 6024 Calories from Fat 2105
% Daily Value*
Total Fat 239 g367.5%
Saturated Fat 71 g354.9%
Trans Fat 0 g
Cholesterol 134.9 mg
Sodium 932.9 mg38.9%
Total Carbohydrates 996 g332.1%
Dietary Fiber 9.4 g37.7%
Sugars 802.1 g
Protein 40 g79.6%
Vitamin A 176.4% Vitamin C 17.6%
Calcium 165.8% Iron 79.1%
*Based on a 2000 Calorie diet
Directions
Lightly butter foil-lined 9-inch square pan.
In large heavy saucepan, melt margarine.
Add sugar; mix well.
Stir in corn syrup.
Cook over medium-low heat, until sugar dissolves and mixture is well blended.
Stir in sweetened condensed milk.
Cook over medium heat, stirring constantly, until mixture reaches 230°F on candy thermometer, about 30 minutes.
Stir in chocolate; continue cooking until mixture reaches the soft ball stage (240°F.), about 15 minutes.
Remove from heat; stir in vanilla.
Pour hot mixture into prepared pan.
Cool.
Refrigerate several hours or until candy has completely set.
Remove from pan.
With thin-bladed knife, cut caramel into pieces, using a light sawing motion.
Wrap individual pieces in waxed paper.
Store in refrigerator.