»

Recipes

»

Cake

»

Nut Cake

»

Chocolate Applesauce Nut Cake
Chocolate Applesauce Nut Cake Recipe
Chocolate Applesauce Nut Cake is a recipe that can be prepared in nearly no time. Try this Chocolate Applesauce Nut Cake; I am sure you will have a huge fan following for this one!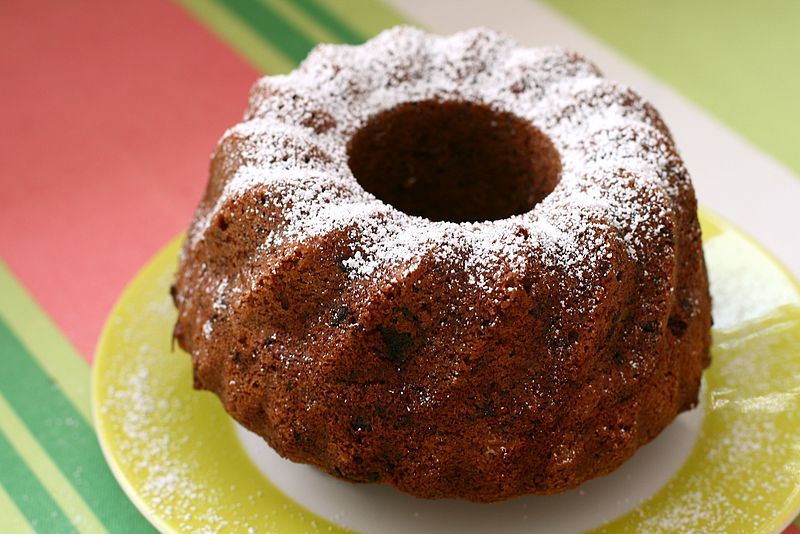 Ingredients
Butter

3⁄4 Cup (12 tbs)

Baking powder

2 1⁄4 Teaspoon

Sugar

1 1⁄2 Cup (24 tbs)

Eggs

3

Baking soda

3⁄4 Teaspoon

Unsweetened chocolate squares

3

, melted

Salt

3⁄4 Teaspoon

Apple sauce

1 1⁄2 Cup (24 tbs)

, canned

Walnuts

3⁄4 Cup (12 tbs)

, broken

Vanilla

3 Teaspoon

Cake flour

2 1⁄2 Cup (40 tbs)

, sifted
Nutrition Facts
Serving size: Complete recipe
Calories 5229 Calories from Fat 2197
% Daily Value*
Total Fat 253 g389.7%
Saturated Fat 124.2 g620.9%
Trans Fat 0 g
Cholesterol 997.3 mg
Sodium 3627 mg151.1%
Total Carbohydrates 703 g234.3%
Dietary Fiber 62.6 g250.4%
Sugars 359.3 g
Protein 95 g190.3%
Vitamin A 99.7% Vitamin C 12%
Calcium 138.4% Iron 121.5%
*Based on a 2000 Calorie diet
Directions
Cream butter until light and fluffy.
Cream in sugar.
Add egg 1 at a time, beating well after each addition.
Blend in chocolate.
Stir in nuts.
Mix and sift dry ingredients.
Stir in alternately with applesauce.
Stir in vanilla.
Spoon batter into greased and floured 10 inch ceramic bundt pan.
Cook in Radarange oven 11 to 12 minutes, or until wooden pick inserted near center tube comes out clean.
Turn dish a quarter turn every 2 minutes of baking time.
Let stand in dish 15 minutes; invert onto cake plate.
Image Courtesy :
http://en.wikipedia.org/wiki/Bundt_cake