»

Recipes

»

Chinese

»

Chinese Spare Ribs
Chinese Spare Ribs Recipe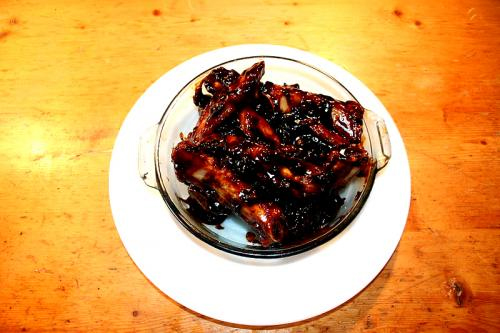 Summary
Cooking Time
1 Hr 0 Min
Difficulty Level
Medium
Health Index
Average
Servings
8
Ingredients
Dark brown sugar

5 Ounce

(140 Gram)

Molasses

2 Fluid Ounce

(50 Milliliter)

Tomato ketchup

3 1⁄2 Fluid Ounce

(100 Milliliter)

Cayenne

1 Pinch

Black bean sauce

2 Fluid Ounce

(50 Milliliter)

Garlic

4 Clove (20 gm)

, crushed

Brown sauce

1 Tablespoon

Baby back ribs

4 Pound

(1.8 Kilogram)

Vegetable oil/Groundnut oil

2 Cup (32 tbs)

(For Frying)

Red cabbage

1⁄2

, finely shredded

Carrots

2

, grated

Red onions

2

, finely sliced

Red chili

1

, finely sliced

Mayonnaise

6 Fluid Ounce

(175 Milliliter)

Lime juice

1 Teaspoon

Light soy sauce

1 Tablespoon

Onions spring

6

, finely sliced

Chili sauce

1 Tablespoon
Nutrition Facts
Serving size
Calories 1256 Calories from Fat 908
% Daily Value*
Total Fat 102 g156.7%
Saturated Fat 20 g99.9%
Trans Fat 0 g
Cholesterol 145.4 mg
Sodium 1213.5 mg50.6%
Total Carbohydrates 55 g18.3%
Dietary Fiber 4.7 g19%
Sugars 41.3 g
Protein 37 g74.7%
Vitamin A 89.1% Vitamin C 161.5%
Calcium 11% Iron 10.5%
*Based on a 2000 Calorie diet
Directions
MAKING
1) In a bowl, whisk the soy, sugar, molasses, ketchup, cayenne, black bean sauce, garlic and brown sauce. Put in the ribs and give a toss to coat the ribs with marinade. Cover and marinate overnight or for at least 2 hours.
2) To make the coleslaw, take a wide bowl. Add in the red cabbage, finely shredded carrots,onions, red chilli, mayonnaise, lime juice and soy sauce. Mix them well and chill till needed.
3) Take a large frying pan or 2 large frying pans and heat a little oil. Place the ribs in a single layer in batches and cook for about 20 to 25 minutes. Constantly, keep turning the ribs from side to side. Baste the ribs well in the marinade until they are cooked well and become sticky. Cook over medium heat so that the marinade does not evaporate before the ribs cook

SERVING
4) Server by keeping ribs onto individual plates, along with a spoonful of coleslaw, finely sliced spring onions and hot chilli sauce.