»

Recipes

»

Chinese
Chinese Salad Recipe
Chinese Salad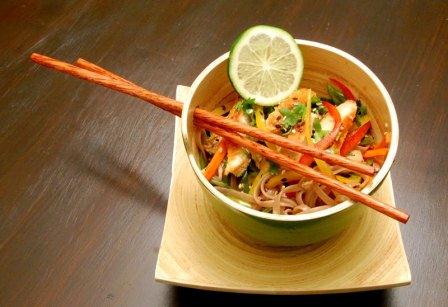 Ingredients
Chicken breasts/Chicken - 1 can, flaked

3

, cooked

Cabbage head

1

, shredded

Green onions

4

, chopped

Sesame seeds

4 Tablespoon

, toasted

Almonds

4 Tablespoon

, sliced

Ichiban noodles

3 1⁄2 Ounce

, break up (1 Pack)

Vinegar

6 Tablespoon

Sugar

4 Tablespoon

Oil

3⁄4 Cup (12 tbs)

Salt

2 Teaspoon

Pepper

1 Teaspoon

Accent

2 Teaspoon
Nutrition Facts
Serving size
Calories 1773 Calories from Fat 1058
% Daily Value*
Total Fat 121 g186.7%
Saturated Fat 15.9 g79.5%
Trans Fat 0.1 g
Cholesterol 191.3 mg
Sodium 3724.6 mg155.2%
Total Carbohydrates 95 g31.7%
Dietary Fiber 16 g64%
Sugars 40.8 g
Protein 82 g164%
Vitamin A 25.9% Vitamin C 175.9%
Calcium 53.6% Iron 55.3%
*Based on a 2000 Calorie diet
Directions
GETTING READY
1. In a small bowl, put together all the dressing ingredients and mix.

MAKING
2. In a large mixing bowl, place all the vegetables and pour the dressing; toss to mix.

FINALISING
3. Allow the salad to marinate overnight.

SERVING
4. Just before serving, drain off excess dressing or store for several days.