»

Recipes

»

Chinese

»

Chinese Chicken Salad
Chinese Chicken Salad Recipe
Chinese Chicken Salad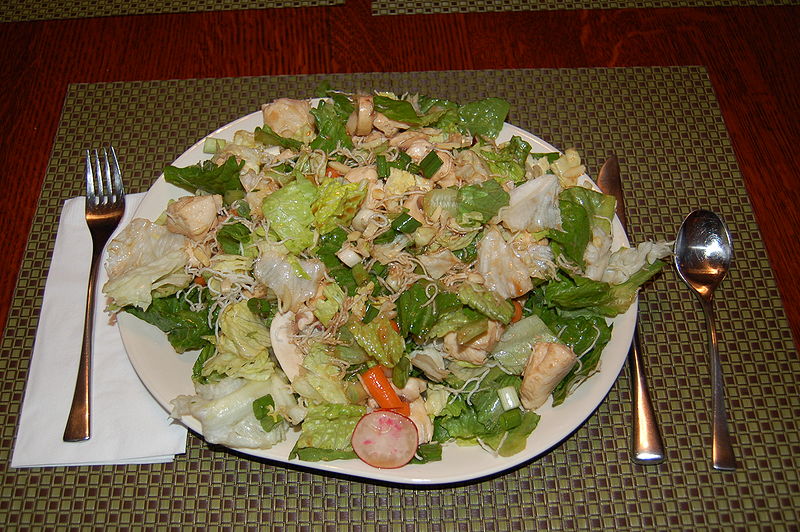 Ingredients
Hoisin sauce

3 Tablespoon

Natural peanut butter

2 Tablespoon

Brown sugar

2 Teaspoon

Chili paste

3⁄4 Teaspoon

(Asian)

Freshly grated ginger root

1 Teaspoon

Seasoned rice vinegar

3 Tablespoon

Asian sesame oil

1 Tablespoon

Salt

To Taste

Skinless boneless chicken breasts

1 Pound

Non stick vegetable oil spray

1

Dried capellini

1⁄4 Pound

Romaine lettuce

4 Cup (64 tbs)

, rinsed and spun dry

Shredded carrots

2 Cup (32 tbs)

Scallions

1⁄4 Pound

, finely chopped for about 3/4 cup (1 Bunch)

Chopped coriander

1⁄4 Cup (4 tbs)
Nutrition Facts
Serving size
Calories 407 Calories from Fat 84
% Daily Value*
Total Fat 9 g14.2%
Saturated Fat 1.5 g7.7%
Trans Fat 0 g
Cholesterol 66.1 mg
Sodium 660.1 mg27.5%
Total Carbohydrates 46 g15.3%
Dietary Fiber 6.2 g24.8%
Sugars 15.9 g
Protein 34 g68.6%
Vitamin A 351% Vitamin C 39.3%
Calcium 7.9% Iron 14.4%
*Based on a 2000 Calorie diet
Directions
GETTING READY
1) Preheat oven hot to 350°F.
2) Prepare the grill.

MAKING
3) In a bowl add all the ingredients for the dressing and whisk together.
4) Spray nonstick vegetable oil on the chicken to lightly grease it.
5) Place the chicken on a rack and grill 4 inches from the glowing coals for 6 to 8 minutes on each side till the chicken is cooked through.
6) Let the chicken stand for 10 minutes.
7) Slice the chicken thinly. Broil the chicken if desired.
8) Follow package instructions to cook the cappellini. Drain it well.
9) Rinse with cold water. Drain again.
10) Spray nonstick vegetable oil spray on the pasta.
11) In a large shallow baking pan place pasta in one layer.
12) Bake pasta for 20 minutes till golden.
13) Sprinkle salt over cappellini and break it up into 1/2-inch-length pieces.
14) In a large bowl add lettuce, carrots, scallions, chicken, cappellini, and coriander with the dressing. Toss the mixture till well coated.

SERVING
15) Serve immediately.