»

Recipes

»

Chinese

»

Chinese Bhel
Chinese Bhel Recipe
Chinese Bhel is an Indian-Chinese recipe made with boiled and deep fried noodles. The dish is finally put together in an Indian style bhel with onion, oil and salt. Chinese Bhel is a nice dish to snack on while watching a movie or on a rainy day.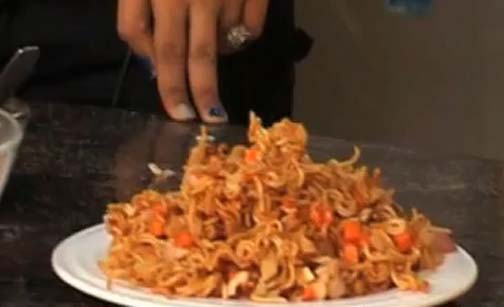 Summary
Cooking Time
40 Min
Difficulty Level
Very Easy
Health Index
Just Enjoy
Servings
2
Ingredients
Veg hakka noodles

1 Cup (16 tbs)

, cooked and fried (Ching'S Secret)

Schezwan sauce

2 Tablespoon

(Ching'S Secret)

Green chili sauce

1 Teaspoon

(Ching'S Secret)

Soy sauce

1 Teaspoon

(Ching'S Secret)

Onion

1

, finely chopped

Cabbage

1⁄2 Cup (8 tbs)

, finely chopped

Carrot

1⁄4 Cup (4 tbs)

, finely chopped

Oil

2 Cup (32 tbs)

(As Needed To Deep Fry)

Salt

To Taste
Nutrition Facts
Serving size
Calories 2186 Calories from Fat 2074
% Daily Value*
Total Fat 235 g360.8%
Saturated Fat 30.7 g153.4%
Trans Fat 0 g
Cholesterol 14.3 mg
Sodium 369.7 mg15.4%
Total Carbohydrates 25 g8.4%
Dietary Fiber 3.6 g14.6%
Sugars 6.3 g
Protein 4 g8.7%
Vitamin A 54% Vitamin C 20.9%
Calcium 2.9% Iron 1.9%
*Based on a 2000 Calorie diet
Directions
1. Following instructions given at the back of the package boil Ching's Secret Veg Hakka Noodles.
2. In a wok, deep fry the noodles until crisp; drain & keep aside
3. In a large bowl, crush the deep fried noodles.
4. Add rest of the ingredients to the crushed noodles and mix well.
5. Serve immediately.
This video is a creation of chingssecret. You can visit
chingssecret
for complete recipes, and more videos.