»

Recipes

»

Sauce

»

Chimichurri Sauce
Chimichurri Sauce Recipe
This Chimichurri Sauce is an addiction ! I love this irresistible seasoning mix with my pasta and meat dishes ! Try this Chimichurri Sauce in your own special way and let me know if you like it !
South American Chimichurri Sauce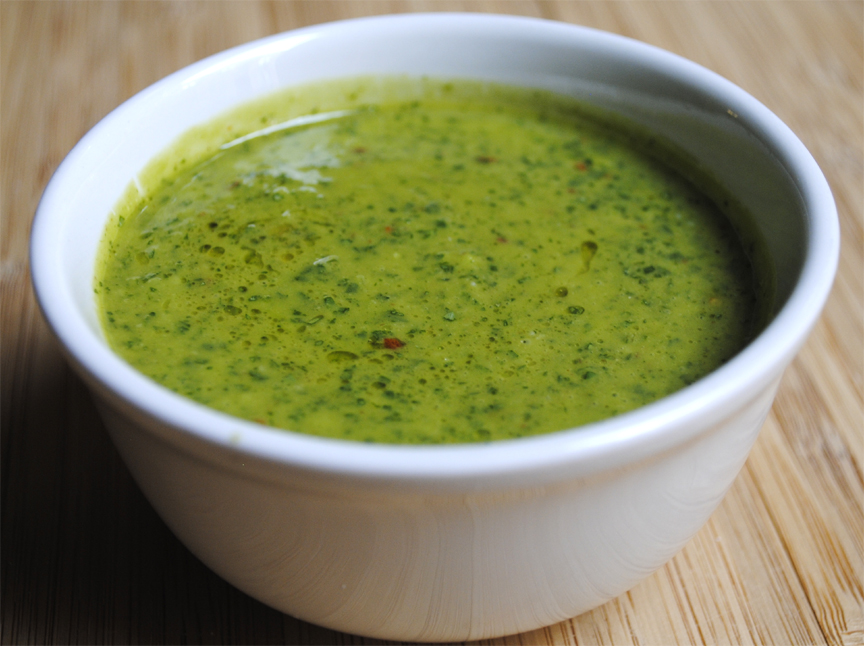 Ingredients
Garlic

1 Clove (5 gm)

, minced

Salt

1⁄2 Teaspoon

Loosely packed italian parsley leaves

1 1⁄2 Cup (24 tbs)

, minced (Use Fresh)

Loosely packed cilantro leaves

1 Cup (16 tbs)

, minced (Use Fresh)

Olive oil

3⁄4 Cup (12 tbs)

Red wine vinegar

2 Tablespoon

Red pepper

1⁄2 Teaspoon

, crushed
Nutrition Facts
Serving size: Complete recipe
Calories 1631 Calories from Fat 1467
% Daily Value*
Total Fat 166 g255.6%
Saturated Fat 22.9 g114.4%
Trans Fat 0 g
Cholesterol 0 mg
Sodium 1287.5 mg53.6%
Total Carbohydrates 33 g11.2%
Dietary Fiber 18.8 g75%
Sugars 5.3 g
Protein 16 g32.3%
Vitamin A 932% Vitamin C 914.3%
Calcium 67.1% Iron 154%
*Based on a 2000 Calorie diet
Directions
On cutting board, with side of chefs knife, mash garlic with salt to a smooth paste.
In small bowl, stir garlic mixture with parsley and remaining ingredients until well blended.