»

Recipes

»

Indian
Chilli Pickle Recipe
This chili pickle or mirchi ka achar is a green chili pickle recipe. Popular throughout North India, the chili pickle is made with spices like fenugreek, chili powder, cumin and turmeric. Seasoned and combined together, the chili pickleis sealed and stored, it goes great with meals.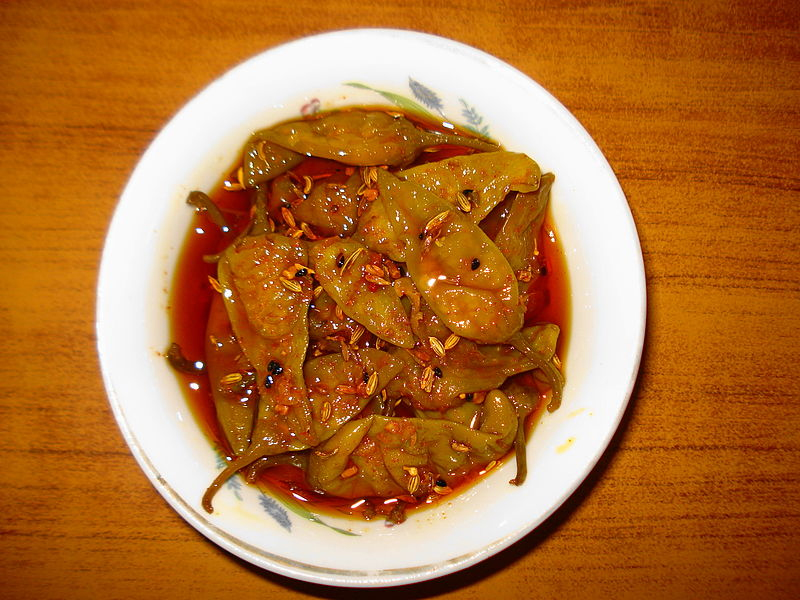 Summary
Health Index
Just Enjoy
Cuisine
Indian
Ingredients
Green chilli

200 Gram

Lemon juice

1⁄2 Cup (8 tbs)

Red chilli powder

1 Teaspoon

Fenugreek seeds

1⁄2 Tablespoon

Mustard seeds

1⁄2 Tablespoon

Turmeric powder

1 Teaspoon

Cumin powder

2 Teaspoon

, roasted

Mustard oil

3 Tablespoon

Salt

To Taste
Nutrition Facts
Serving size: Complete recipe
Calories 624 Calories from Fat 445
% Daily Value*
Total Fat 50 g77.5%
Saturated Fat 5.8 g28.9%
Trans Fat 0 g
Cholesterol 0 mg
Sodium 470.8 mg19.6%
Total Carbohydrates 45 g15%
Dietary Fiber 9.2 g36.8%
Sugars 14.2 g
Protein 9 g18.1%
Vitamin A 77.5% Vitamin C 910%
Calcium 17.1% Iron 61.3%
*Based on a 2000 Calorie diet
Directions
1) Make a smooth mixture of ground fenugreek and mustard seeds with turmeric powder, red chilli powder, cumin powder and salt.
2) Soak the sliced chillies into lemon juice for an hour.
3) Add the powdered mixture of spices in warm oil, pour them onto the green chillies and stir well.
4) Store the chilli pickle in a glass bottle.