»

Recipes

»

Soup

»

Chilled Cucumber Soup
Chilled Cucumber Soup Recipe
Chilled cucumber soup is simple, elegant and healthy appetizer that makes summer a pleasant occasion. With summers there are many cucumbers in the market and chilled cucumber soup is just another way to include them in your food.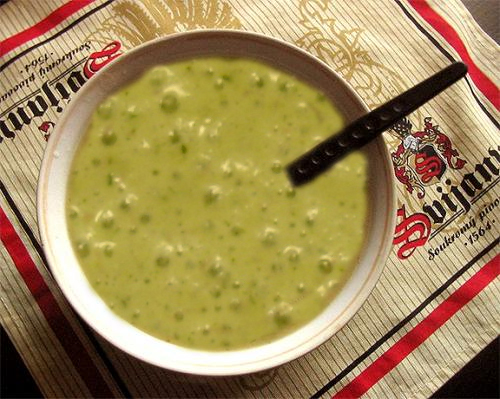 Ingredients
Onion

2 Tablespoon

, minced

Butter

1⁄4 Cup (4 tbs)

All-purpose flour

1⁄4 Cup (4 tbs)

Salt

1 Teaspoon

Milk

3 Cup (48 tbs)

Light cream

1 Cup (16 tbs)

Cucumbers

3 Large

, diced
Nutrition Facts
Serving size
Calories 295 Calories from Fat 210
% Daily Value*
Total Fat 24 g36.7%
Saturated Fat 14.7 g73.6%
Trans Fat 0 g
Cholesterol 75.9 mg
Sodium 386.1 mg16.1%
Total Carbohydrates 17 g5.7%
Dietary Fiber 0.98 g3.9%
Sugars 8.7 g
Protein 6 g12.3%
Vitamin A 18.2% Vitamin C 8%
Calcium 18.4% Iron 4%
*Based on a 2000 Calorie diet
Directions
MAKING
1)In a saucepan, heat butter and saute onion on low heat until transparent but not brown.
2)Add flour and salt.
3)Then, add milk and cream and stir constantly.
4)Cook the mixture stirring constantly until sauce is smooth and thickened.
5)Add cucumbers to soup and using a blender puree it. Chill well.

SERVING
6)Serve in chilled bowls set in ice garnished with thin slices of additional unpared cucumber.