»

Recipes

»

Soup

»

Chilled Cucumber And Mint Soup
Chilled Cucumber and Mint Soup Recipe
chilled cucumber and mint soup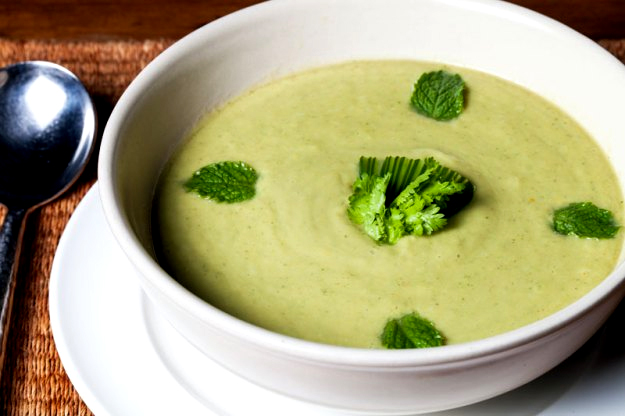 Ingredients
Cucumber

1

Milk

1/2 Pint

Garlic

1 Clove (5gm)

, peeled

Natural yoghurt

1 1/2 Pint

Salt

1 To taste

Ground pepper

1 To taste

Mint leaves

12
Directions
MAKING
1) Slice the peeled cucumber into two halves. Slice one half into four longitudinal quarters. Further slice each quarter into thin slices. Keep aside the slices.
2) Take the other cucumber half and blend with milk to a smooth paste.
3) Into the blender, add in the garlic, yoghurt, salt and pepper. Blend well and pour over the cucumber mixture.
4) Rinse, dry and roughly chop the mint leaves. Sprinkle the mint over the cucumber and yoghurt mixture.
5) Refrigerate for 2 hours.
6) Add in the cucumber slices.

SERVING
7) Serve the Chilled Cucumber and Mint Soup with breadsticks on the side.