»

Recipes

»

Mexican

»

Pinto Bean Chili Con Carne
Pinto Bean Chili Con Carne Recipe
I had been searching for a brilliant and perfected Chili Con Carne recipe for ages when I came upon this brilliant recipe! Till date, the Chili Con Carne I have prepared has only received praises from all who have had it. The credit goes to this wonderful Chili Con Carne recipe!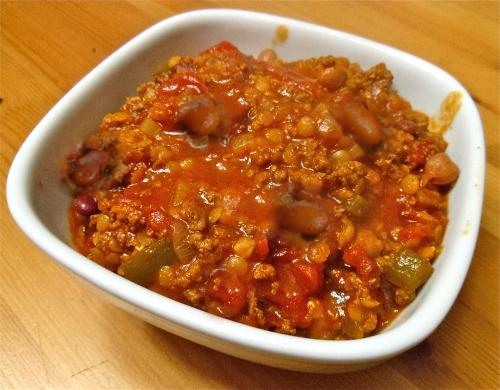 Ingredients
Pinto beans

2 Cup (32 tbs)

, cooked

Onion

1 Large

, sliced

Green pepper

1

, chopped

Ground beef

1 Pound

Olive oil

3 Tablespoon

Tomato sauce

1 Cup (16 tbs)

Tomato paste

1 Can (10 oz)

Red pepper

1⁄2 Tablespoon

Oregano

1⁄2 Tablespoon

Cumin

1⁄2 Tablespoon

Bay leaf

1

Chili powder

2 Tablespoon

Nutritional yeast

3 Tablespoon
Nutrition Facts
Serving size: Complete recipe
Calories 3679 Calories from Fat 1608
% Daily Value*
Total Fat 180 g277.2%
Saturated Fat 53 g264.8%
Trans Fat 0 g
Cholesterol 320 mg
Sodium 1015.6 mg42.3%
Total Carbohydrates 367 g122.4%
Dietary Fiber 96.6 g386.3%
Sugars 74.4 g
Protein 182 g364.2%
Vitamin A 319.3% Vitamin C 488.8%
Calcium 91.4% Iron 268%
*Based on a 2000 Calorie diet
Directions
Bring one quart of water to a boil and slowly, so boiling does not stop, add beans.
Reduce heat immediately after all beans are in water and simmer 2 to 2-1/2 hours.
Saute onions, green pepper, and beef in hot oil.
Add tomato sauce, tomato paste, nutritional yeast, seasonings, and cooked beans.
Simmer 1 hour.