»

Recipes

»

Mexican
Chili Con Carne Recipe
Chili con carne is a beef and beans chili made with kidney beans. Herbed to taste with oregano and spiced with garlic, cumin, chili powder, the chili con carne is spicy, savory and can be served over rice.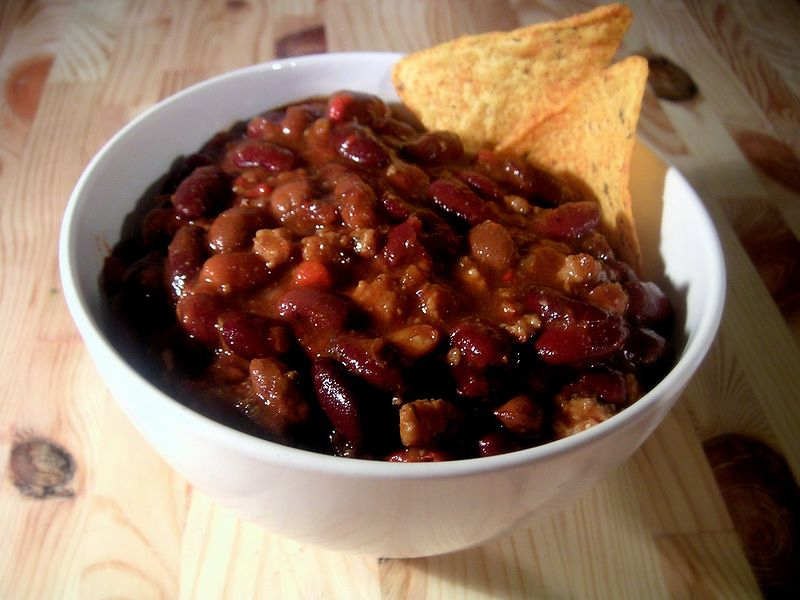 Ingredients
Kidney beans/1 pound dried red/ pinto beans

4 Can (40 oz)

Shortening

2 Tablespoon

Flour

2 Tablespoon

Garlic

2 Clove (10 gm)

, crushed

Dried oregano

1 Teaspoon

Onion

1

, chopped

Ground cumin

1⁄4 Teaspoon

Beef round

2 Pound

Salt

1 Tablespoon

Chili powder

1 Tablespoon
Nutrition Facts
Serving size: Complete recipe
Calories 5835 Calories from Fat 1068
% Daily Value*
Total Fat 120 g184.7%
Saturated Fat 39.5 g197.7%
Trans Fat 3.9 g
Cholesterol 368 mg
Sodium 6640.4 mg276.7%
Total Carbohydrates 746 g248.6%
Dietary Fiber 183 g731.9%
Sugars 31.1 g
Protein 455 g910.3%
Vitamin A 95.9% Vitamin C 127.3%
Calcium 128.6% Iron 502.5%
*Based on a 2000 Calorie diet
Directions
If you use dried beans, soak them overnight, then cook several hours until tender.
Brown onion in heated shortening.
Add meat, cut into very small cubes, and cook until well browned.
Stir in flour, cook a minute or two, then add canned, undrained kidney beans (or home cooked red beans plus 2 cups of the liquid in which they cooked) and all remaining ingredients.
Cook over a low heat, stirring frequently, for about 1 hour or until beef is tender.
Taste and add more chili if you wish.
Image Courtesy :
http://en.wikipedia.org/wiki/File:Bowl_of_chili.jpg