»

Recipes

»

Soup

»

Chili Bean Soup
Chili Bean Soup Recipe
chili bean soup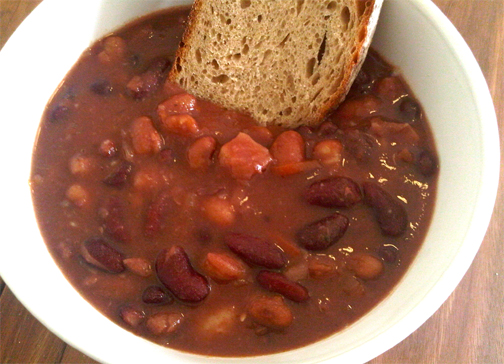 Ingredients
Onion

1 Medium

, finely chopped

Water

3 Tablespoon

Kidney or pinto beans - 1 can (28-ounce)

Tomatoes- 1 can (28-ounce)

Tomato paste- 1 can (6-ounce)

Chili powder

1 Tablespoon

Ground cumin

1/2 Tablespoon
Directions
MAKING
1) Take a 2 quart non-stick saucepan and saute onion in it. Add water and cook for some more time.
2) In the meanwhile, take a blender container and put tomatoes in it. Process for about 30 seconds.
3) Transfer blended tomatoes to a bowl.
4) Put beans in blender container and process for about 30 seconds or until mixture reaches a lumpy consistency.
5) Add tomatoes and beans to onions.
6) Stir in tomato paste and mix well.
7) Add cumin and chili powder. Mix nicely.
8) Bring the mixture to a boil. Reduce heat and simmer for about 30 minutes.

SERVING
9) Spoon out the soup in individual bowls and serve immediately.

TIP: Chili Bean Soup tastes best when prepared a day in advanced, refrigerated overnight and re-heated immediately before serving.