»

Recipes

»

Sauce

»

Chicken Wings In Barbecue Sauce
Chicken Wings In Barbecue Sauce Recipe
The chicken wings in barbecue sauce is a spicy and savory preparation of chicken prepared with a medley of sauces and spices. Made with chicken wings cooked in a casserole with vegetables like celery and green peppers, the chicken wings in barbecue sauce is flaored with ketchup, barbecue sauce and worcestershire sauce along with lemon juice, mustard and garlic. served with rice or potatoes, it makes for a filling meal.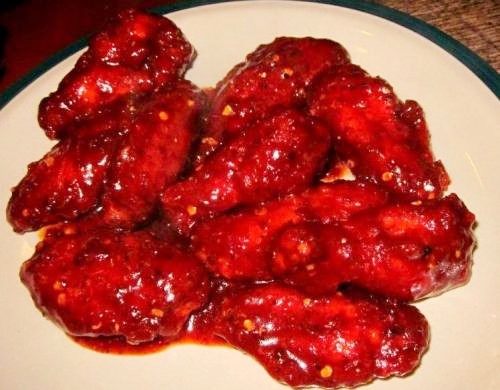 Ingredients
Chicken wings

12

(Fresh / Frozen, Large Meaty Ones)

Salad oil

2 Teaspoon

Diced onion

1⁄2 Cup (8 tbs)

Garlic

1 Clove (5 gm)

, crushed

Diced celery

1 Cup (16 tbs)

Diced green pepper

1⁄2 Cup (8 tbs)

Water

3⁄4 Cup (12 tbs)

Smoke flavored barbecue sauce/Ketchup

1 Cup (16 tbs)

Vinegar

2 Tablespoon

Lemon juice

2 Tablespoon

Worcestershire sauce

2 Tablespoon

Brown sugar

2 Tablespoon

Dry mustard

1 Teaspoon

Salt

1 Teaspoon

Pepper

1⁄4 Teaspoon
Nutrition Facts
Serving size: Complete recipe
Calories 1159 Calories from Fat 242
% Daily Value*
Total Fat 27 g42.2%
Saturated Fat 5 g25%
Trans Fat 0.5 g
Cholesterol 266.8 mg88.9%
Sodium 3529.3 mg147.1%
Total Carbohydrates 114 g38.1%
Dietary Fiber 4.8 g19%
Sugars 83.4 g
Protein 106 g211.8%
Vitamin A 55.8% Vitamin C 176.3%
Calcium 18.2% Iron 36.5%
*Based on a 2000 Calorie diet
Directions
Clip off tips of chicken wings.
Heat the fat in a deep 2 quart saucepan and brown the wings slowly, a few at a time turning until both sides are golden.
Add the onion and garlic and fry until transparent.
Return chicken wings to the saucepan.
Mix remaining ingredients together and pour over the wings.
Bring to a boil and simmer covered for 10 minutes.
Pour into a casserole and bake at 325F to 350F for about 1 hour or until chicken is tender.
Baste occasionally with the sauce and add a little more water if necessary.
Serve hot.