»

Recipes

»

Salad

»

Chicken Salad Croissants
Chicken Salad Croissants Recipe
A chicken salad croissants microwave recipe that will help you whip up a quick and delicious meal. This recipe is going to be a favorite with your kids. A great way to enjoy a holiday with the entire family.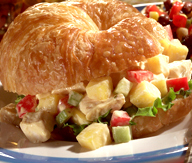 Summary
Preparation Time
10 Min
Cooking Time
15 Min
Ready In
25 Min
Difficulty Level
Medium
Health Index
Average
Servings
2
Ingredients
Skinless, boneless chicken breasts halves

1⁄2 Pound

Creamy ranch dressing

1⁄4 Cup (4 tbs)

Yellow mustard

1⁄2 Teaspoon

Chopped cucumber

1⁄4 Cup (4 tbs)

Chopped tomato

1⁄4 Cup (4 tbs)

Chopped cashews

2 Tablespoon

Croissants

2

, split

Butter/Margarine, mayonnaise or salad dressing

1 Tablespoon

Lettuce

1 Cup (16 tbs)
Nutrition Facts
Serving size
Calories 604 Calories from Fat 337
% Daily Value*
Total Fat 38 g58.9%
Saturated Fat 11.7 g58.3%
Trans Fat 0 g
Cholesterol 200.8 mg
Sodium 779.9 mg32.5%
Total Carbohydrates 27 g9%
Dietary Fiber 2.3 g9%
Sugars 8.5 g
Protein 39 g78.3%
Vitamin A 56.8% Vitamin C 17.8%
Calcium 9.8% Iron 14.5%
*Based on a 2000 Calorie diet
Directions
1. Arrange chicken, thickest parts to outside edge, in 2-cup microwavable casserole or on microwavable plate. Cover tightly and microwave on High 3 to 4 minutes or until juice is no longer pink when centers of thickest pieces are cut. Uncover and refrigerate about 10 minutes or until cool enough to handle.

2. Cut chicken into 1/4-inch pieces. Toss chicken, dressing, mustard, cucumber, tomato and cashews. Cover and refrigerate about 1 hour or until chilled.

3. Just before serving, spread cut sides of croissant halves with butter. Spread chicken mixture over bottoms of croissants; top with lettuce and tops of croissants.