»

Recipes

»

Italian

»

Piccata
Chicken Piccata Recipe
Preparation can be done a day ahead of time to save time in the kitchen and be with your company.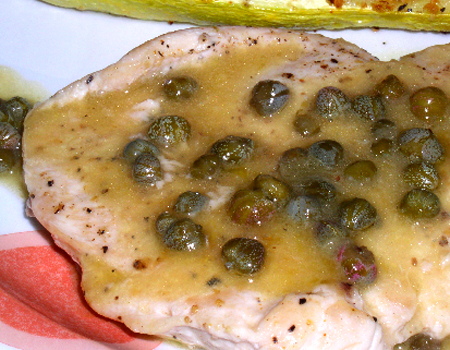 Ingredients
Vegetable oil

3 Tablespoon

Red bell peppers

To Taste

, diced (Seeded)

Sweet onions

2 Large

, peeled and cut into wedges

Skinless, boneless chicken breasts halves

1 1⁄2 Pound

, cut into cubes

Garlic

2 Clove (10 gm)

, minced

Ground red pepper

1 Pinch

(Cayenne Pepper)

Lemon

1

, juiced

Butter

2 Tablespoon

Chopped parsley

2 Tablespoon

(Fresh)

Salt

To Taste

Pepper

To Taste
Nutrition Facts
Serving size
Calories 411 Calories from Fat 175
% Daily Value*
Total Fat 20 g30.4%
Saturated Fat 5.9 g29.5%
Trans Fat 0 g
Cholesterol 114.8 mg
Sodium 232.3 mg9.7%
Total Carbohydrates 17 g5.7%
Dietary Fiber 2.8 g11%
Sugars 9.6 g
Protein 41 g82.9%
Vitamin A 18.5% Vitamin C 56.3%
Calcium 8.2% Iron 13.1%
*Based on a 2000 Calorie diet
Directions
In a large skillet, heat oil. Saute red bell peppers and onions until they begin to soften. Remove from skillet with a slotted spoon and set aside. Add cubed chicken to skillet and brown lightly. Add garlic and ground red pepper. Reduce heat slightly and saute, covered, for 1 to 2 minutes, until garlic is golden brown.
Using a wooden spoon, add lemon juice, stirring to break up particles on bottom of skillet (deglazing). Add butter/margarine, stirring and blending well into the sauce. Return bell pepper and onion to skillet, stir all together and add parsley. Season with salt and pepper to taste and serve.