»

Recipes

»

Italian

»

Chicken Pasta Primavera
Chicken Pasta Primavera Recipe
Love fettuccine? Check out this version with chicken and veggies and all the trimmings!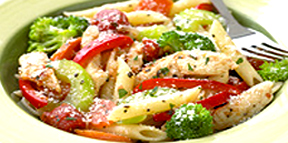 Ingredients
Uncooked fettuccine

4 Ounce

Broccoli flowerets

1 Cup (16 tbs)

Carrot strips

1⁄2 Cup (8 tbs)

(1/4 inch)

Olive oil/Vegetable oil

1 Teaspoon

Boneless skinless chicken breast halves

1⁄2 Pound

, cut into 1/2 inch strips

Garlic

1 Clove (5 gm)

, finely chopped

Ranch dressing

1⁄3 Cup (5.33 tbs)

Grated parmesan cheese

2 Tablespoon

Shredded basil/1/8 teaspoon dried basil leaves

1 Teaspoon
Nutrition Facts
Serving size
Calories 646 Calories from Fat 270
% Daily Value*
Total Fat 30 g46.8%
Saturated Fat 6.6 g33.1%
Trans Fat 0.2 g
Cholesterol 92.4 mg
Sodium 667.5 mg27.8%
Total Carbohydrates 50 g16.7%
Dietary Fiber 3.2 g12.9%
Sugars 4.6 g
Protein 41 g81.9%
Vitamin A 128% Vitamin C 64.8%
Calcium 22.8% Iron 15.2%
*Based on a 2000 Calorie diet
Directions
1. Cook and drain fettuccine as directed on package--except add broccoli and carrot 1 minute before fettuccini is done.
2. While fettucine is cooking, heat oil in 10-inch nonstick skillet over medium-high heat. Cook chicken and garlic in oil 2 to 3 minutes, stirring frequently, until chicken is no longer pink in center; remove from heat.
3. Stir dressing, cheese and basil into chicken. Toss with fettucine and vegetables.