»

Recipes

»

Dumpling

»

Nugget

»

CHICKEN NUGGETS.
CHICKEN NUGGETS. Recipe
It is a side dish. It use also as a snack or an appetizer. Specially kids like very much.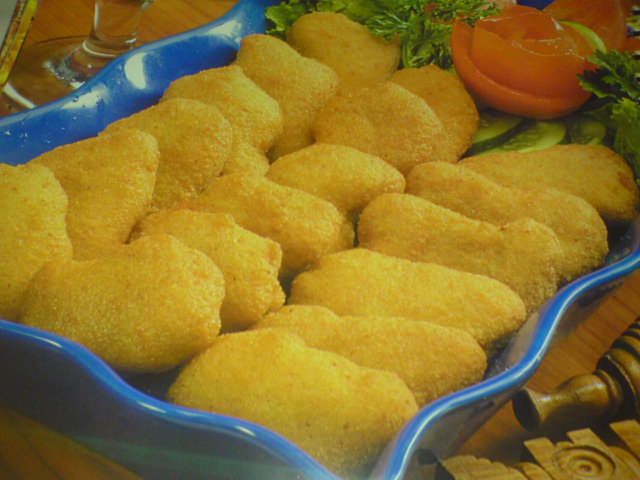 Recipe Story
Its my kids favourite specially for thier lunch boxes.
Ingredients
Boneless chicken

1 Kilogram

Garlic paste

1 Tablespoon

Black pepper powder

1 Teaspoon

Vinegar

3 Tablespoon

Soya sauce

2 Tablespoon

Sauce

2 Tablespoon

Flour

1 Cup (16 tbs)

Cornflour

1⁄2 Cup (8 tbs)

Corn flour

1⁄2 Cup (8 tbs)

Salt

To Taste

White pepper powder

1 Teaspoon

Egg white

2

Ghee/Oil

2 Cup (32 tbs)

(For Frying)
Nutrition Facts
Serving size
Calories 936 Calories from Fat 656
% Daily Value*
Total Fat 75 g115.3%
Saturated Fat 42.9 g214.5%
Trans Fat 0 g
Cholesterol 306.5 mg
Sodium 637.6 mg26.6%
Total Carbohydrates 39 g13%
Dietary Fiber 1.4 g5.5%
Sugars 0.4 g
Protein 30 g60.5%
Vitamin A 0.7% Vitamin C 1.2%
Calcium 1.2% Iron 17%
*Based on a 2000 Calorie diet
Directions
Marinate chicken with Garlic paste, Vinegar, Soya sauce, White pepper powder, Black pepper powder
and salt . Keep the marinated Chicken in fridge for ½ an hour.
Beat egg white very well for batter, till becomes fluffy , add flour,corn-flour, White pepper powder ,Black pepper .

powder and Salt in it and a little quantity of chilled water .
Dip marinated chicken pieces and golden fry on medium in preheated oil . Serve it with tomato ketch-up.

Chicken nuggets come out very crispy when coated with breadcrumbs. Also I feel that the nuggets in the picture are breaded!! Good recipe.
Posted on:
15 April 2008 - 11:17am
Looks delicious..will try it soon...
Posted on:
10 April 2008 - 9:45pm
Really it is very delicious. Specially your kids like it very much.
Posted on:
11 April 2008 - 2:46pm