»

Recipes

»

Italian

»

Sicilian

»

Marsala
Chicken Marsala Recipe
Here's a lighter version of one of favorite chicken dishes. For all, this one's a keeper!"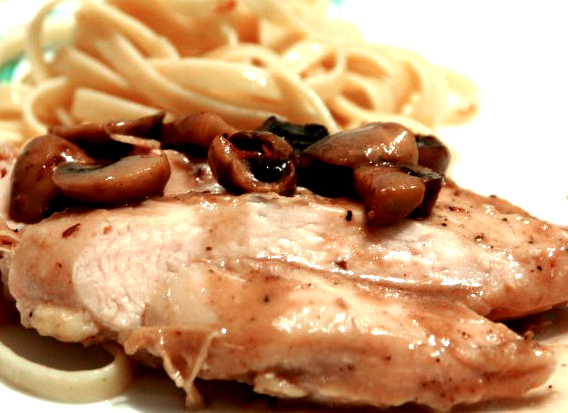 Ingredients
All purpose flour

1⁄4 Cup (4 tbs)

Garlic salt

1⁄2 Teaspoon

Ground black pepper

1⁄4 Teaspoon

Dried oregano

1⁄2 Teaspoon

Boneless, skinless chicken breast halves

4

Olive oil

1 Tablespoon

Butter

1 Tablespoon

Mushrooms

1 Cup (16 tbs)

, sliced (fresh)

Marsala wine

1⁄2 Cup (8 tbs)
Nutrition Facts
Serving size
Calories 333 Calories from Fat 81
% Daily Value*
Total Fat 9 g14.1%
Saturated Fat 3.1 g15.3%
Trans Fat 0 g
Cholesterol 107.8 mg
Sodium 311.2 mg13%
Total Carbohydrates 11 g3.8%
Dietary Fiber 0.8 g3.2%
Sugars 2.8 g
Protein 42 g83%
Vitamin A 3.5% Vitamin C 4.9%
Calcium 3.5% Iron 11.7%
*Based on a 2000 Calorie diet
Directions
In a medium bowl, stir together the flour, garlic salt, pepper, and oregano. Dredge chicken in the mixture to lightly coat.
Heat olive oil and butter in a large skillet over medium heat. Fry the chicken in the skillet for 2 minutes, or until lightly browned on one side. Turn chicken over, and add mushrooms. Cook about 2 minutes, until other side of chicken is lightly browned. Stir mushrooms so that they cook evenly.
Pour Marsala wine over the chicken. Cover skillet, and reduce heat to low; simmer for 10 minutes, or until chicken is no longer pink and juices run clear.

It is an absolutely delicious recipe of Chicken Mersala. Really it will be Non-vegetarian delight. But I want to know that is any relation between Mersala (a city of Sicily) and this Chicken Mersala Dish?
Posted on:
11 February 2008 - 3:38pm