»

Recipes

»

Asian

»

Kofta

»

Chicken Kofta Curry
Chicken Kofta Curry Recipe
Chicken Kofta goes well with Naan or Steamed Rice.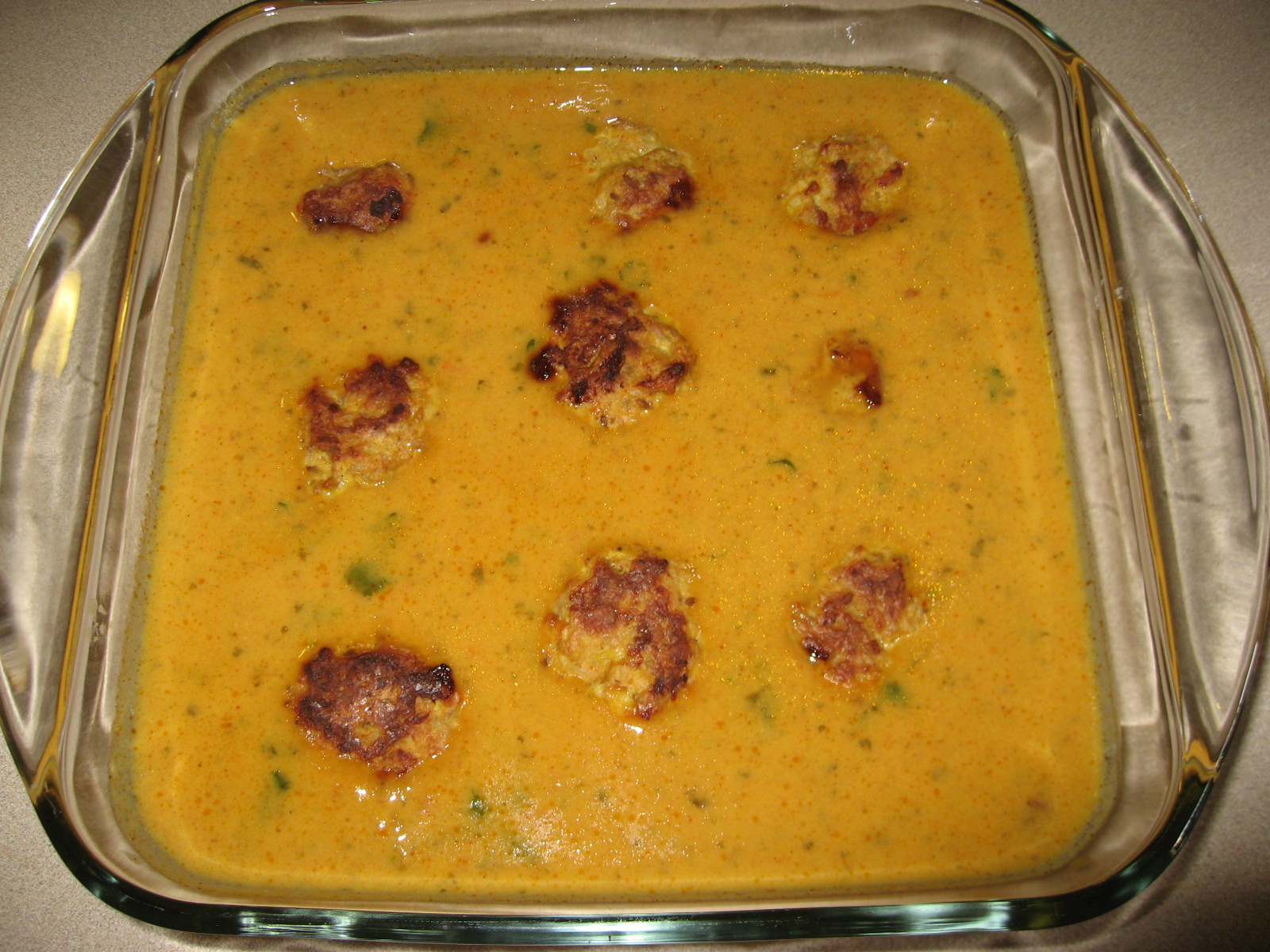 Ingredients
Chicken

500 Gram

, minced ( )

Egg

1

( )

Coriander powder/Dhaniya

1 Teaspoon

( )

Garam masala powder

0.5 Teaspoon

( )

Black pepper powder - a pinch

Turmeric powder

2 Pinch

( )

Ginger-Garlic paste - 0.5 tsp

Salt and Chilly powder - to taste

Juice of lime/lemon - 3 tbs

Red onion

1 Large

( )

Tomatoes

2 Medium

( )

Green chillies

2

( )

Cashewnuts

8

( )

Shahjeera/Caraway seeds - 2 pinches

Fenugreek leaves - 2 tbs

Milk

1 Cup (16 tbs)

( )

Cream

0.25 Cup (16 tbs)

( )

Butter

1 Tablespoon

( )

Garam masala powder

0.25 Teaspoon

( )

Cilantro/Coriander - to garnish.
Directions
To make the Kofta Balls
-----------------------

Combine egg, coriander powder, garam masala powder,black pepper powder,turmeric powder, ginger-garlic paste,salt and chilly powder and juice of lime with the minced chicken and make small balls.

Heat 1 cup oil in a wok and deep-fry the chicken malls. Drain excess oil on a kitchen towel/absorbent sheet. Keep these kofta's aside.

To make the curry
-----------------
Heat a skillet and add 2 tbs oil. Add choppd onion and fry well. Add chopped tomatoes and green chillies and saute for about 2 minutes. Remove. Add cashews and little water and grind into a smooth paste.

Heat skillet again. Add 1 tbs oil and add shahijeera and let them sizzle. Add fenugreek leaves and as soon as they are beginning to change color, add the ground paste and mix well. Add garama masala powder, salt and chilly powder. Give it a stir and add 1 cup milk. Cover and simmer for about 5-8 minutes. You may add cream or a dash of butter at this point.

Arrange the Kofta's in a bowl and pour the curry over the Kofta's. Allow at least 15 minutes for for the Kofta's to soak up some of the curry and acquire a nice taste.

Serve Hot with Naan or Steamed Rice.