»

Recipes

»

Chicken

»

Chicken Kadai
Chicken kadai Recipe
Would you like to try simple Chicken Kadai at home? This Chicken Kadai recipe is just the way it is prepared in Indian restaurants. This is a traditional recipe from Mughlai Cuisine. Chicken Kadai is a delicious Indian Curry. It is included as a main dish in Indian lunch and dinner menu . Chicken Kadai goes well with Pulao, but it can also be eaten with Naan .Cook, share and enjoy this Chicken Kadai recipe.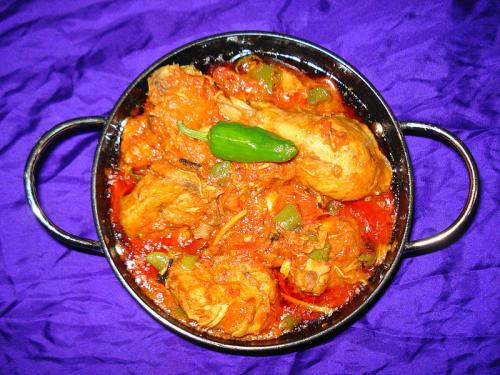 Ingredients
Chicken

1 Kilogram

Onion

2

Garam masala

1 Teaspoon

Red chili powder

1 Teaspoon

Coriander powder

1 Teaspoon

Jeera powder

1 Teaspoon

Turmeric powder

1 Pinch

Garlic ginger paste

1 Teaspoon

Oil/Ghee

1 Tablespoon

Salt

To Taste

Coriander leaves

4

(Strands)
Nutrition Facts
Serving size
Calories 438 Calories from Fat 234
% Daily Value*
Total Fat 26 g40%
Saturated Fat 6.8 g33.8%
Trans Fat 0 g
Cholesterol 134 mg
Sodium 283.5 mg11.8%
Total Carbohydrates 7 g2.4%
Dietary Fiber 2 g7.8%
Sugars 2.5 g
Protein 42 g83.9%
Vitamin A 7.5% Vitamin C 9.1%
Calcium 6.5% Iron 11%
*Based on a 2000 Calorie diet
Directions
Heat ghee/oil and fry finely chopped onions and ginger-garlic paste till onions turn slightly brownish. Add chicken pieces and all other ingredients (except coriander leaves). Cover and cook till water is absorbed and chicken is cooked thoroughly. Garnish with chopped coriander leaves and serve hot.