»

Recipes

»

Chicken

»

Chicken Jerusalem
Chicken Jerusalem Recipe
Chicken Jerusalem is an easy to prepare chicken recipe which cannot just escape your guest's attention. Try this amazingly delicious Chicken Jerusalem, you will surely love to talk about with us.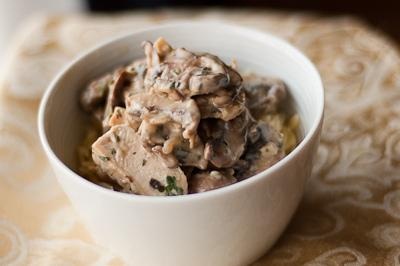 Ingredients
4 large split chicken breasts salt, paprika and pepper to taste

1/8 teaspoon each crumbled dried tarragon and rosemary

Butter

1 1/2 Teaspoon

1/4 pound small fresh mushrooms

Lemon juice

1 1/2 Tablespoon

Dry white wine

1/3 Cup (16 tbs)

Sherry

1 Tablespoon

1 teaspoon chicken stock base

Frozen artichoke hearts package

1

, parboiled

Finely chopped parsley
Directions
Season chicken breasts with salt, paprika, pepper, tarragon, and rosemary.
Place in a shallow baking dish and bake in a 375° oven for 20 minutes, or until cooked through.
Using a large frying pan, melt butter and saute mushrooms with lemon juice until glazed.
Add wine, Sherry, chicken stock base, and cooked artichoke hearts and heat through.
Spoon vegetables over the chicken and quickly boil down remaining juices until slightly reduced and spoon over all.
Sprinkle with parsley.
Contains about 200 calories per serving.