»

Recipes

»

Chicken

»

Chicken Jerusalem
Chicken Jerusalem Recipe
Chicken Jerusalem is an easy to prepare chicken recipe which cannot just escape your guest's attention. Try this amazingly delicious Chicken Jerusalem, you will surely love to talk about with us.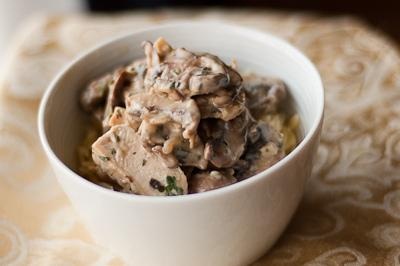 Ingredients
Chicken breasts

4 Large

Rosemary

1⁄8 Teaspoon

Butter

1 1⁄2 Teaspoon

Mushrooms

1⁄4 Pound

Lemon juice

1 1⁄2 Tablespoon

Dry white wine

1⁄3 Cup (5.33 tbs)

Sherry

1 Tablespoon

Chicken stock

1 Teaspoon

Frozen artichoke hearts

8 Ounce

, parboiled (1 Package)

Chopped parsley

1 Tablespoon
Nutrition Facts
Serving size
Calories 215 Calories from Fat 31
% Daily Value*
Total Fat 3 g5.3%
Saturated Fat 1.5 g7.3%
Trans Fat 0 g
Cholesterol 88.2 mg
Sodium 228.1 mg9.5%
Total Carbohydrates 5 g1.8%
Dietary Fiber 0.88 g3.5%
Sugars 1.3 g
Protein 35 g70.8%
Vitamin A 8.8% Vitamin C 18.7%
Calcium 3.4% Iron 10.6%
*Based on a 2000 Calorie diet
Directions
Season chicken breasts with salt, paprika, pepper, tarragon, and rosemary.
Place in a shallow baking dish and bake in a 375° oven for 20 minutes, or until cooked through.
Using a large frying pan, melt butter and saute mushrooms with lemon juice until glazed.
Add wine, Sherry, chicken stock base, and cooked artichoke hearts and heat through.
Spoon vegetables over the chicken and quickly boil down remaining juices until slightly reduced and spoon over all.
Sprinkle with parsley.
Contains about 200 calories per serving.