»

Recipes

»

Chicken

»

Chicken Hekka
Chicken Hekka Recipe
An incredible Asian stir fry. One of my personal favorites.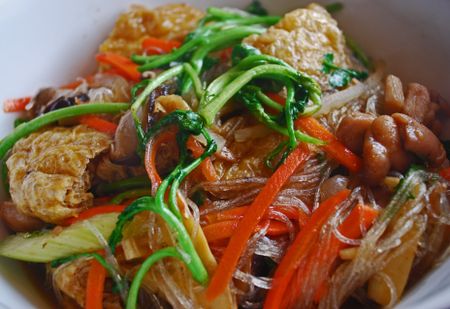 Ingredients
Skinless, boneless chicken breast meat

1 1⁄2 Pound

White sugar

3⁄4 Cup (12 tbs)

Soy sauce

3⁄4 Cup (12 tbs)

Mirin

3⁄4 Cup (12 tbs)

(japanese sweet wine)

Vegetable oil

2 Tablespoon

Grated fresh ginger

1 Tablespoon

Carrots

3

, julienned

Onions

2

, thinly sliced

Shredded bamboo

14 Ounce

(drained)

Fresh mushrooms

1⁄2 Pound

, sliced

Water

1 Cup (16 tbs)

, coarsely chopped (trimmed)

Rice noodles

8 Ounce

, cut into 2 inch pieces (soaked)
Nutrition Facts
Serving size
Calories 529 Calories from Fat 63
% Daily Value*
Total Fat 7 g10.9%
Saturated Fat 1.2 g5.9%
Trans Fat 0 g
Cholesterol 65.8 mg21.9%
Sodium 2229 mg92.9%
Total Carbohydrates 85 g28.4%
Dietary Fiber 4.4 g17.5%
Sugars 39.6 g
Protein 33 g66.4%
Vitamin A 102.7% Vitamin C 16.8%
Calcium 5.6% Iron 13.4%
*Based on a 2000 Calorie diet
Directions
Cut chicken meat into bite size pieces. In a medium bowl combine the sugar, soy sauce, and mirin wine. Mix well, and set aside.

In a skillet or wok, heat oil over medium-high heat. Squeeze juice from grated ginger into wok, add grated ginger, and stir fry until brown. Discard ginger fibers. Increase heat to high, and stir in chicken. Season with soy sauce mixture, and cook for 2 more minutes.

One at a time add the carrots, onions, bamboo shoots, mushrooms, and watercress. Stir after each addition. Add rice noodles; cook, stirring, for about 3 more minutes, or until done.