»

Recipes

»

Chicken

»

Chicken Fried With Bacon Bits
Chicken Fried with Bacon Bits Recipe
Looking for an easy homemade Chicken recipe, why not give this Chicken Fried with Bacon Bits a try! Extremely simple and incredibly easy, it is needless to say that this Chicken Fried with Bacon Bits is also appetizingly inviting!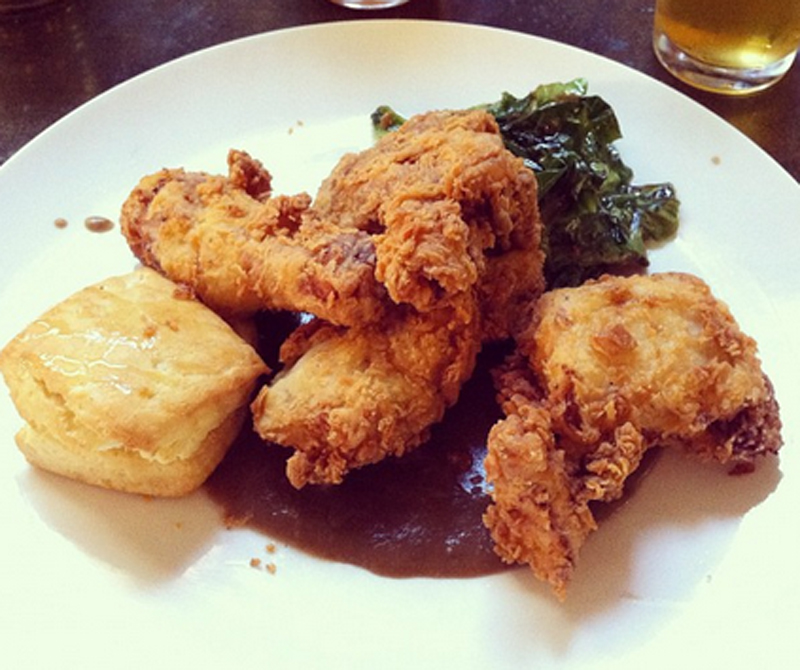 Ingredients
Frozen chicken

1 Pound

Flour

1⁄4 Cup (4 tbs)

Onion salt

1 Teaspoon

Paprika

1⁄2 Teaspoon

Pepper

1⁄8 Teaspoon

Bacon

1⁄4 Pound

, finely chopped
Nutrition Facts
Serving size
Calories 371 Calories from Fat 85
% Daily Value*
Total Fat 10 g15.1%
Saturated Fat 2.6 g12.8%
Trans Fat 0 g
Cholesterol 15 mg
Sodium 1003.6 mg41.8%
Total Carbohydrates 13 g4.2%
Dietary Fiber 0.9 g3.6%
Sugars 0.2 g
Protein 56 g111.5%
Vitamin A 13.2% Vitamin C 1.5%
Calcium 0.5% Iron 5.7%
*Based on a 2000 Calorie diet
Directions
Thaw chicken according to carton directions.
Combine flour, onion salt, paprika and pepper in a paper bag.
Shake three pieces of chicken at a time until well coated.
Spread bacon bits over the bottom of 9-inch cold skillet.
Arrange coated chicken on top.
Do not cover.
Cook very slowly 45 minutes or until tender, turning frequently.
As chicken browns, bits of bacon should adhere to chicken.
Spoon bacon in bottom of pan over chicken before serving.
Image Courtesy :
http://www.flickr.com/photos/bovinity/7987150855/