»

Recipes

»

Quiche

»

Chicken Enchilada Quiche
Chicken Enchilada Quiche Recipe
Your friends are going to love the rich blend of ingredients and the subtle flavors in this chicken Enchilada quiche recipe. Quiche all jazzed up with Mexican flavors. Make an impression at your friends gathering with this delicious and easy recipe.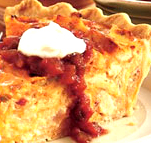 Summary
Preparation Time
15 Min
Cooking Time
1 Hr 15 Min
Ready In
1 Hr 30 Min
Difficulty Level
Medium
Health Index
Average
Servings
6
Ingredients
Pillsbury refrigerated pie crust

15 Ounce

Eggs

4

Half and half/Milk

1 Cup (16 tbs)

Chunk chicken breast

12 1⁄2 Ounce

(In Water Drained 1 1/2 Cups)

Broken tortilla chips

1 1⁄2 Cup (24 tbs)

Shredded monterey jack cheese

8 Ounce

Shredded cheddar cheese

4 Ounce

Paso chopped green chilies

4 1⁄2 Ounce

Salt

1⁄2 Teaspoon

Pepper

To Taste

Sour cream

1 Tablespoon

Salsa

4 Ounce

(Old El Paso Thick 'N Chunky)
Nutrition Facts
Serving size
Calories 992 Calories from Fat 518
% Daily Value*
Total Fat 59 g91%
Saturated Fat 23.9 g119.3%
Trans Fat 0.2 g
Cholesterol 247.7 mg
Sodium 1650.2 mg68.8%
Total Carbohydrates 80 g26.5%
Dietary Fiber 4 g16.2%
Sugars 3.1 g
Protein 34 g67.6%
Vitamin A 22.7% Vitamin C 15%
Calcium 116.8% Iron 49.4%
*Based on a 2000 Calorie diet
Directions
1. Heat oven to 350°F. Place pie crust in 9-­ or 9 1/2-inch glass deep-dish pie pan as directed on box for One-Crust Filled pie.
2. In medium bowl, beat eggs with wire whisk until blended. Beat in half-and-half. Stir in chicken, chips, both cheeses, 1 cup salsa, the green chiles and salt. Pour into crust-lined pan. Sprinkle pepper over top of filling.
3. Bake 55 to 65 minutes or until crust is light golden brown and knife inserted in center comes out clean. Let stand 10 minutes before serving. Cut into wedges. Serve with sour cream and/or salsa.
High Altitude (3500-6500 ft) Bake at 375°F for 55 to 65 minutes. After 15 minutes of baking, cover edges of crust with strips of foil.

I am going to have to give this one a try also The Tortilla Guy
Posted on:
20 August 2007 - 9:20am

I have to give this one a try - it sounds great...
Posted on:
26 July 2007 - 8:35am