»

Recipes

»

Chicken

»

Chicken 65
Chicken 65 Recipe
This is my Mom's recipe for Chicken 65 and is slightly indianized since she does not use Ajinomoto. Its truly delicious and serves as a great appetizer, also it makes a wonderful pairing with hard drinks like scotch or vodka.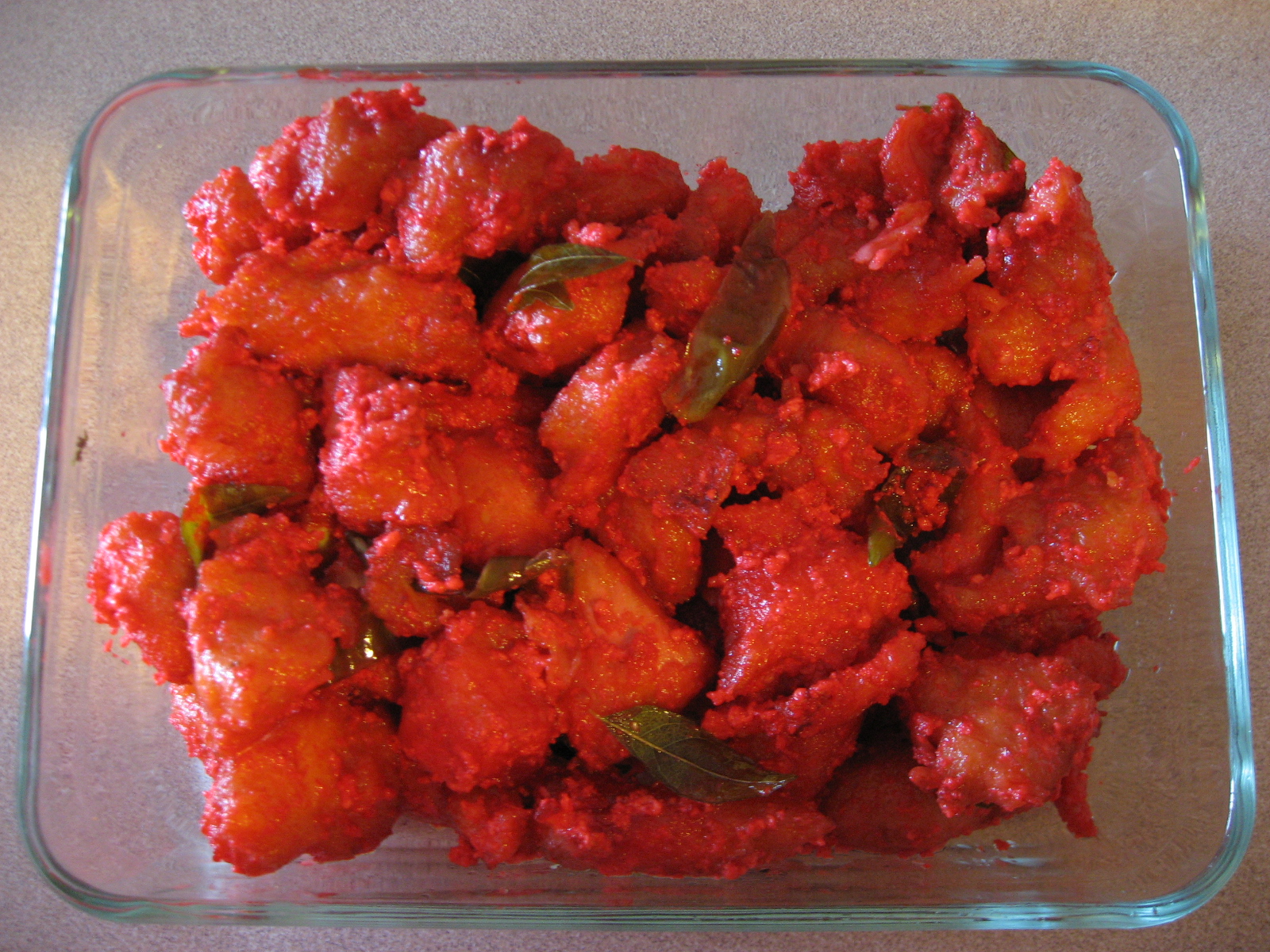 Ingredients
Boneless chicken/Chicken breast pieces

1 Pound

(0.5 kgs)

Yogurt

1 1⁄2 Cup (24 tbs)

(thick)

Egg

1 Large

Corn flour

1⁄2 Cup (8 tbs)

(corn starch)

Maida

1⁄2 Cup (8 tbs)

(all purpose flour)

Green chillies

4

, slit lengthwise

Green chillies

4

, slit lengthewise

Ajino-moto

2 Pinch

(optional owing to its controversial nature)

Ajinomoto

2 Pinch

(optional owing to its controversial nature)

Lemon

1 1⁄2

, juiced

Salt

To Taste

Chilli powder

To Taste
Nutrition Facts
Serving size
Calories 327 Calories from Fat 98
% Daily Value*
Total Fat 11 g17.4%
Saturated Fat 4.2 g21%
Trans Fat 0 g
Cholesterol 153.9 mg
Sodium 522.4 mg21.8%
Total Carbohydrates 34 g11.4%
Dietary Fiber 2 g7.9%
Sugars 5.1 g
Protein 25 g49.7%
Vitamin A 9.2% Vitamin C 109.7%
Calcium 12.9% Iron 13.9%
*Based on a 2000 Calorie diet
Directions
Cut chicken into cubes. Combine corn starch, all purpose flour, egg, salt and chilly powder. Mix well so that the mixture coats the chicken cubes really well.

Heat oil in a wok for frying. Deep fry the chicken cubes and remove excess oil with the help of an absorbing sheet. Keep aside.

In a skillet, heat 3 tbs oil. Add slit green chillies and curry leaves. Add thick sour yogurt (yogurt can be made sour by leaving it outside in room temperature overnight). Add salt and chilly powder to taste. If using ajinomoto, then add it at this point.

Add deep fried chicken pieces and mix well. Continue cooking until the chicken absorbs the yogurt completely. Add red food color (optional). Mix well. Squeeze juice of a lemon or two depending on taste.

Serve Hot.