»

Recipes

»

Sauce

»

Chicken With Grape Sauce
Chicken With Grape Sauce Recipe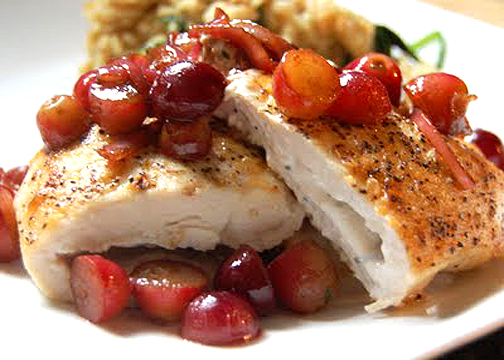 Ingredients
Chicken

1

Onion

1

Carrot

1

Bouquet garni

1

Sultana grapes/White grapes

1⁄2 Pound

Butter

2 Ounce

Flour

2 Ounce

Curry powder

4 Milliliter

(1 Dessert Spoon)

Double cream

4 Tablespoon

Salt

To Taste

Pepper

To Taste
Directions
Simmer the chicken with the onion, carrot and bouquet garni, for about an hour or until tender.
Remove it, strain the stock and allow this to cool so that the fat can easily be lifted off.
Cut the flesh into nice sized pieces and put in a warm dish.
Wash the grapes.
If they are sultana grapes with delicate skins and no pips, you are home and dry.
If you are using ordinary white grapes, then you must skin and pip them.
Make the sauce by melting the butter and stirring in the flour and the curry powder, in the usual way, adding gradually a pint of the chicken stock.
Stir until it thickens.
Now drop in the grapes.
Finally, remove from heat, add the cream, pour over the chicken and serve.