»

Recipes

»

Chicken
Chicken Tetrazzini Recipe
Chicken Tetrazzini is a delicious easy one dish dinner. And the best part is that you can use leftover or canned chicken for this tetrazzini. If you are looking for great recipes for their parties, here's Chicken Tetrazzini Recipe that is sure to be instant hits at any gathering!
Chicken Tetrazzini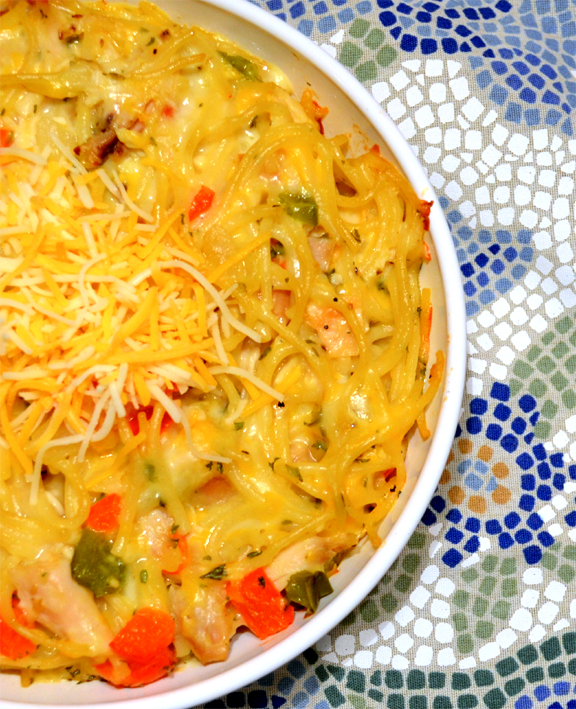 Ingredients
Fryer chicken

2 3 pound

Water

4 Cup (16 tbs)

Pepper

1/4 Teaspoon

Onions

2 Small

Salt

To Taste

Butter/Margarine

1/2 Cup (16 tbs)

1/2 pound medium-sized mushrooms, sliced

Lemon juice

1 Tablespoon

1 16-ounce package spaghetti

All purpose flour

1/2 Cup (16 tbs)

Ground nutmeg

1/4 Teaspoon

Paprika

Dry sherry

1/2 Cup (16 tbs)

Half and Half

1 Cup (16 tbs)

Parmesan cheese

1 Cup (16 tbs)

, grated
Directions
1. Rinse chickens and their giblets and necks with running cold water. Place chickens, breast side down, in 8-quart Dutch oven or saucepot; add giblets, necks, water, pepper, 1 onion, and 2 teaspoons salt; over high heat, heat to boiling. Reduce heat to low; cover and simmer 35 minutes or until chickens are fork-tender.
2. Remove chickens, giblets, and necks to large bowl; refrigerate 30 minutes or until easy to handle. Strain chicken broth, reserving 3 1/2 cups. (Cover and refrigerate any remaining broth for use in soup another day.) When chickens are cool, discard bones and skin; cut meat and giblets into bite-sized pieces; set chicken aside.
3. Mince remaining onion. In 10-inch skillet over medium heat, in 2 tablespoons hot butter or margarine (1/4 stick), cook minced onion, mushrooms, and lemon juice until onion is tender. Spoon mixture into 13" by 9" baking dish.
4. Prepare spaghetti as label directs; drain. Add spaghetti to mushroom mixture in baking dish; toss.
5. Preheat oven to 350°F. In same skillet, melt remaining butter or margarine; stir in flour, nutmeg, 1 teaspoon salt, and 1/2 teaspoon paprika until smooth. Gradually stir in sherry and reserved chicken broth, and cook, stirring, until mixture thickens. Stir in half-and-half and chicken.
6. Toss chicken mixture with spaghetti. Sprinkle with Parmesan cheese and some paprika. Bake 30 minutes or until hot and bubbly.