»

Recipes

»

Pie

»

Chicken Celery Pie
Chicken Celery Pie Recipe
Chicken Pie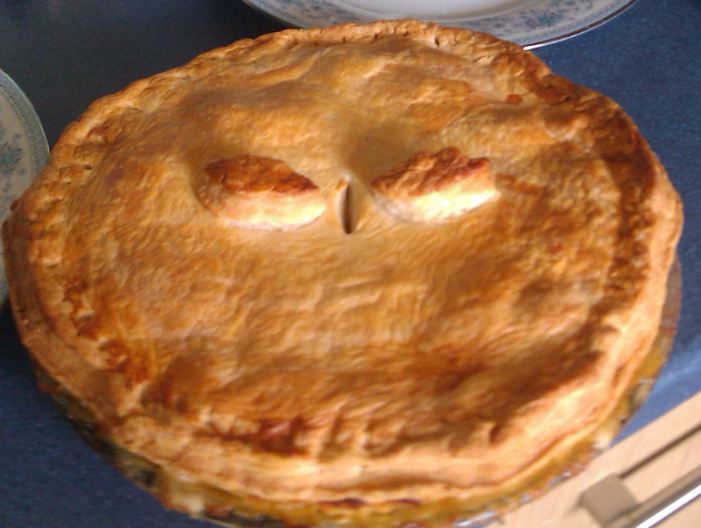 Ingredients
Cold chicken stock/Cube/canned chicken bouillon

1⁄2 Cup (8 tbs)

Sifted flour

1⁄3 Cup (5.33 tbs)

Hot chicken stock/Cube/canned chicken bouillon

1 1⁄2 Cup (24 tbs)

Cooked chicken/Canned chicken

2 1⁄2 Cup (40 tbs)

, cut in large cubes

Drained canned peas/Cooked peas

3⁄4 Cup (12 tbs)

Diced celery

3⁄4 Cup (12 tbs)

Flour

1 Cup (16 tbs)

, sifted

Baking powder

2 Teaspoon

Salt

1⁄4 Teaspoon

Salt

1⁄4 Teaspoon

Butter/Margarine

3 Tablespoon

Milk

1⁄3 Cup (5.33 tbs)
Nutrition Facts
Serving size
Calories 516 Calories from Fat 203
% Daily Value*
Total Fat 23 g35%
Saturated Fat 9.7 g48.5%
Trans Fat 0 g
Cholesterol 98.8 mg
Sodium 699.7 mg29.2%
Total Carbohydrates 45 g14.9%
Dietary Fiber 3.1 g12.3%
Sugars 5 g
Protein 32 g63.3%
Vitamin A 10.7% Vitamin C 1.6%
Calcium 23.9% Iron 19.7%
*Based on a 2000 Calorie diet
Directions
1. Rub a 2-quart casserole with margarine or butter.
2. Combine the cold stock or bouillon with the 1/3 cup flour and mix to a smooth paste. Add to the hot stock or bouillon and cook over direct heat, stirring constantly, until the mixture boils and is smooth and thickened.
3. Combine with the chicken and vegetables. Add the salt. Pour mixture into the casserole.
4. Start oven, set at 425° F., or Hot.
5. Sift the 1 cup flour with the baking powder and salt. Cut in the butter or margarine with a pastry blender or 2 knives, add the milk, stirring quickly with a fork until dough just stiffens.
6. Turn the dough onto a floured board, knead and roll out about 1/4-inch thick in a round shape to fit the top of the casserole. Make several cuts near the center to allow steam to escape. Place the pastry on top of the filled casserole, crimp the edge by pressing it firmly against the edge of the casserole with a fork.
7. Bake about 20 minutes, or until the pastry is delicately browned.