»

Recipes

»

Italian
Chicken Cacciatore Recipe
'Cacciatore' literally means 'hunter' in Italian, and this 'hunter style' dish makes good use of mushrooms, onions tomatoes and herbs. If desired, serve over hot spaghetti noodles."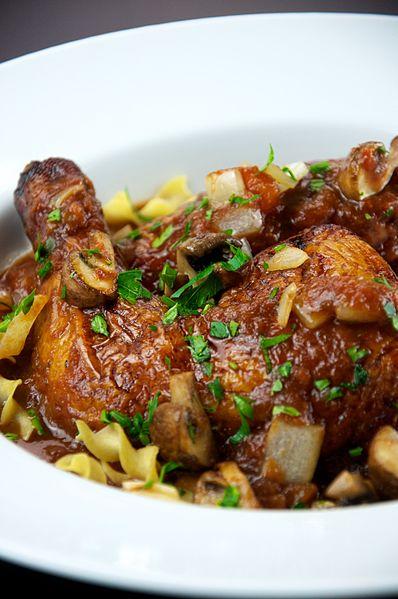 Ingredients
Pepper

To Taste

All purpose flour

2 Cup (32 tbs)

Salt

1⁄2 Teaspoon

Ground black pepper

1⁄4 Teaspoon

Chicken

1

, cut into pieces (4 Pound)

Vegetable oil

2 Tablespoon

Onion

1

, chopped

Garlic

2 Clove (10 gm)

, minced

Green bell pepper

1

, chopped

Diced tomatoes

14 1⁄2 Ounce

Dried oregano

1⁄2 Teaspoon

White wine

1⁄2 Cup (8 tbs)

Fresh mushrooms

2 Cup (32 tbs)

, quartered
Nutrition Facts
Serving size
Calories 715 Calories from Fat 300
% Daily Value*
Total Fat 33 g51.5%
Saturated Fat 8.7 g43.4%
Trans Fat 0 g
Cholesterol 167.5 mg
Sodium 334.4 mg13.9%
Total Carbohydrates 40 g13.4%
Dietary Fiber 3.4 g13.4%
Sugars 4.2 g
Protein 57 g114.4%
Vitamin A 18.8% Vitamin C 53.2%
Calcium 6.2% Iron 26.2%
*Based on a 2000 Calorie diet
Directions
1. Combine the flour, salt and pepper in a plastic bag. Shake the chicken pieces in flour until coated. Heat the oil in a large skillet (one that has a cover/lid). Fry the chicken pieces until they are browned on both sides. Remove from skillet.

2. Add the onion, garlic and bell pepper to the skillet and saute until the onion is slightly browned. Return the chicken to the skillet and add the tomatoes, oregano and wine. Cover and simmer for 30 minutes over medium low heat.

3. Add the mushrooms and salt and pepper to taste. Simmer for 10 more minutes.