»

Recipes

»

Stuffing

»

CHICKEN AND STUFFING BAKE
CHICKEN AND STUFFING BAKE Recipe
So easy to prep - and a great meal to do ahead of time and just throw into the oven later. All the creamy soup goodness and stuffing on top makes this one taste anything other than diet.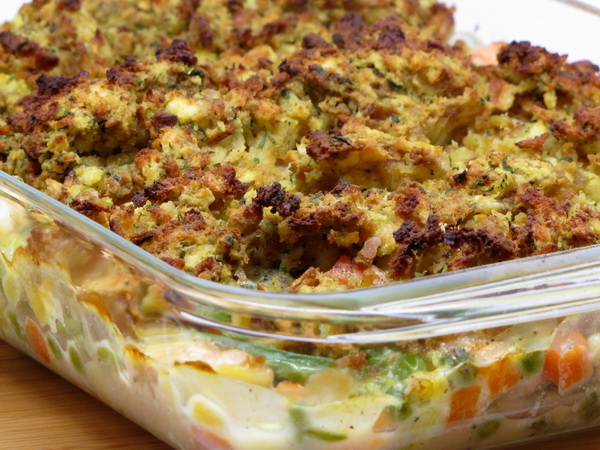 Ingredients
Stove Top Stuffing

6 Ounce

1 1/2 lb. boneless, skinless chicken breasts, cut into bite sized pieces

1 can low fat cream of chicken soup

Low fat sour cream

1/4 Cup (16 tbs)

Frozen mixed vegetables

16 Ounce

, thawed

Garlic powder

1/2 Tablespoon

Onion powder

1/2 Tablespoon

Salt

To Taste

Pepper

To Taste
Directions
Heat oven to 400 degrees. Prepare stuffing according to package directions. Mix chicken, soup, sour cream and vegetables. Place in a 13x9 baking pan and sprinkle with salt, pepper, onion powder and garlic powder.
You can refrigerate at this stage and then finish later - if you do it this way, increase baking time by 10 minutes.
Or continue with the prep and cover the casserole with the stuffing. Bake 30 - 40 minutes or until chicken is done. This dish reheats well in the oven or the microwave.
* 399 calories per serving
This recipe is excerpted from the book
400 or Less - Kid Friendly Recipes
by
Aileen Figula Kiter
. To purchase this book, please visit:
Amazon.Com