»

Recipes

»

European

»

Kiev

»

Chicken A La Kiev
Chicken A La Kiev Recipe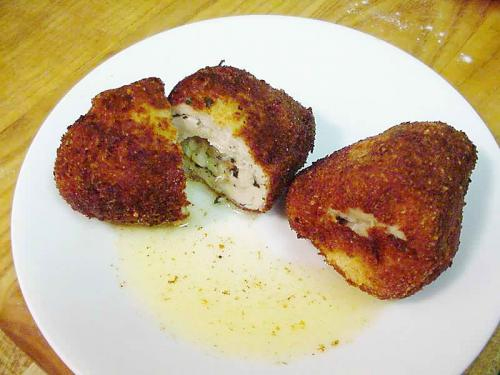 Ingredients
Chicken breasts

3

, with or without main wing bones attached, boned and halved

Chilled butter

1⁄2 Cup (8 tbs)

Ground black pepper

To Taste

Chives

2 Tablespoon

, chopped

Flour

1 Cup (16 tbs)

(For Dredging)

Eggs

2

, beaten

Bread crumbs

1 Cup (16 tbs)

Fat

1 Tablespoon

(For Frying)

Salt

To Taste
Nutrition Facts
Serving size
Calories 373 Calories from Fat 185
% Daily Value*
Total Fat 21 g32.2%
Saturated Fat 11.3 g56.4%
Trans Fat 0 g
Cholesterol 162.8 mg
Sodium 197.6 mg8.2%
Total Carbohydrates 20 g6.7%
Dietary Fiber 0.91 g3.6%
Sugars 0.6 g
Protein 25 g50%
Vitamin A 15.7% Vitamin C 6.6%
Calcium 4.3% Iron 12.8%
*Based on a 2000 Calorie diet
Directions
1. Place the chicken breasts between pieces of waxed paper and pound until thin with a mallet or the flat side of a butcher knife. Do not split the flesh. Remove the waxed paper.
2. Cut the butter into six finger-shaped pieces. Place a piece in the middle of each breast, sprinkle with salt, pepper and chives and roll up, envelope fashion, letting the wing bone protrude and making the sides overlap. The flesh will adhere without skewers.
3. Dredge each roll lightly with flour, dip into the beaten eggs and roll in bread crumbs. Refrigerate one hour or more so the crumbs will adhere.
4. Fill a fryer or kettle with enough fat to completely cover the breasts. Heat until hot (360° F.). Add chicken gradually and brown on all sides. Drain on absorbent paper and place a paper frill on the main wing bones before serving.