»

Recipes

»

Cookie

»

Meringue

»

Chewy Raspberry Walnut Meringues
Chewy Raspberry Walnut Meringues Recipe
Nothing says "I love you" like these sweet and chewy meringues. They're perfect for this Valentine's Day or when you just want to say, "Welcome" or "Congratulations" or "Let the book discussion begin." Play with the flavors by switching up the raspberry jam with apricot preserves or orange marmalade.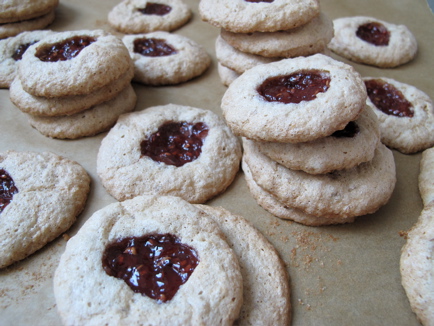 Ingredients
Egg whites

3 Large

Sugar

3⁄4 Cup (12 tbs)

Walnut halves

1 Cup (16 tbs)

, finely chopped

Pure vanilla extract

1 Teaspoon

Kosher salt

1⁄2 Teaspoon

Raspberry jam

1⁄3 Cup (5.33 tbs)
Nutrition Facts
Serving size
Calories 39 Calories from Fat 14
% Daily Value*
Total Fat 2 g2.5%
Saturated Fat 0.15 g0.77%
Trans Fat 0 g
Cholesterol 0 mg
Sodium 27.3 mg1.1%
Total Carbohydrates 6 g2%
Dietary Fiber 0.17 g0.67%
Sugars 5.6 g
Protein 0.62 g1.2%
Vitamin A 0.01% Vitamin C 0.05%
Calcium 0.3% Iron 0.42%
*Based on a 2000 Calorie diet
Directions
Preheat the oven to 350°F. Line 2 baking sheets with parchment paper.
Working with a stand mixer fitted with the whisk attachment, or with a hand mixer with a large bowl, beat the egg whites on medium speed until soft peaks form. Increase the speed to high and slowly add the sugar, beating until glossy, stiff peaks form. Gently fold in the walnuts, vanilla, and salt.
Spoon heaping tablespoon–size amounts of batter 2 inches apart onto the prepared baking sheets. Spoon 1⁄4 teaspoon of jam into the center of each cookie and bake, rotating the sheets halfway through the baking time, until lightly golden, 15 to 18 minutes. Let cool on the baking sheets before transferring the meringues to a wire rack.
This recipe has been excerpted from The
Good Neighbor Cookbook
. To purchase the book visit
TheGoodNeighborCookbook.Com
or
Amazon.Com