»

Recipes

»

Italian

»

Chevre And Roasted Pepper Bruschetta
Chevre And Roasted Pepper Bruschetta Recipe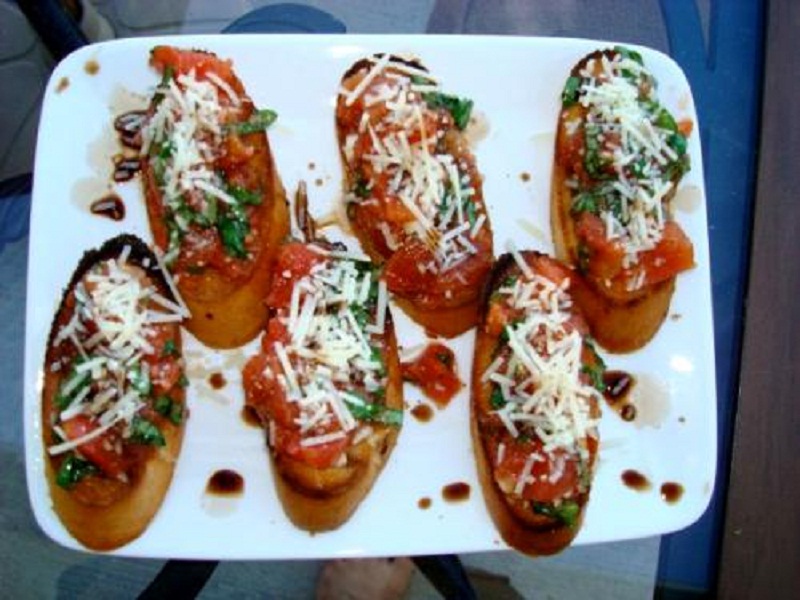 Ingredients
Baguette

1

(French Stick)

Sweet red pepper

1

Creamy goat cheese

1⁄2 Cup (8 tbs)

(Chevre)

Olive oil

1 Teaspoon

Dried basil/2 teaspoon /10 milliliter chopped fresh basil

1⁄2 Teaspoon

Pepper

To Taste

Minced fresh parsley

1 Tablespoon
Nutrition Facts
Serving size
Calories 109 Calories from Fat 29
% Daily Value*
Total Fat 3 g5.1%
Saturated Fat 1.9 g9.5%
Trans Fat 0 g
Cholesterol 7.3 mg
Sodium 175.5 mg7.3%
Total Carbohydrates 15 g5%
Dietary Fiber 0.47 g1.9%
Sugars 0.8 g
Protein 4 g8.6%
Vitamin A 14.5% Vitamin C 33.9%
Calcium 7.1% Iron 2.3%
*Based on a 2000 Calorie diet
Directions
GETTING READY
1) Broil red pepper, turning frequently for about 20 minutes or until blistered and charred.
2) In a bowl,place the peeled, seeded and chopped red peppers.
3) Now add cheese, oil, basil, and pepper to taste to the pepper and mix well, adding up to 1 tsp (5 mL) more oil if needed to make the mixture easier to spread. (Cheese mixture can be refrigerated in airtight container for up to 24 hours.)

MAKING
4) Take the whole french stick and slice it into 18 slices of 3/4 inch or 2 cm thick.
5) Place the slices on the baking sheet and broil for 1 to 2 minutes or just until they attain a slight brown tinge. (Toasts can be stored in airtight container for up to 24 hours.)
6) Turn toasts over and evenly spread heaping of 1 tsp (5 mL) on untoasted side of the slices.
7) Broil 6 inches (15 cm) from heat, observing closely, for 1-1/2 to 2 minutes or until hot.

SERVING
8) Garnish with parsley and cheese to taste.