»

Recipes

»

Stuffing

»

Chest Nut Stuffing
Chest Nut Stuffing Recipe
Chestnut stuffing is a herbed poultry stuffing recipe that can be used for other meats of choice too. Prepared along with celery and breadcrumbs, the chestnut stuffing is moistened with butter and is very flavorful.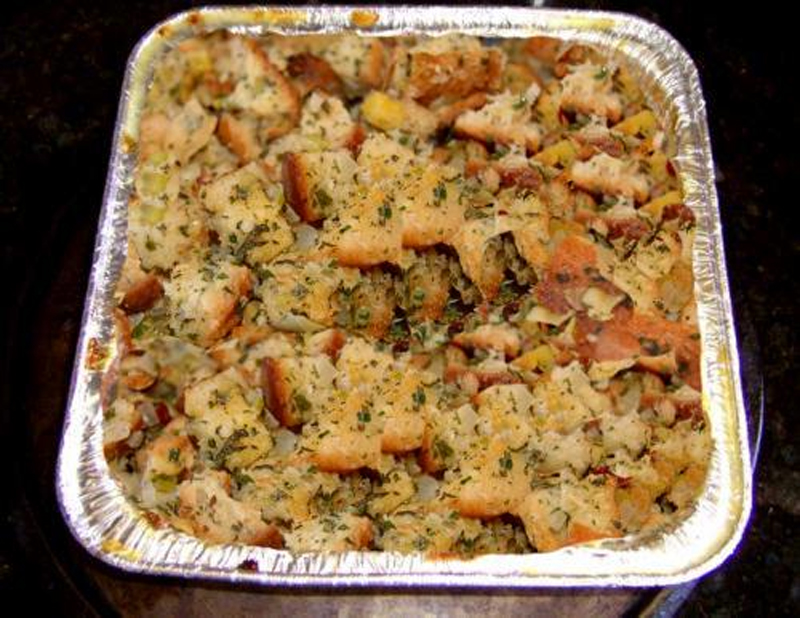 Summary
Difficulty Level
Easy
Health Index
Average
Ingredients
Chestnuts

2 Pound

Salt

2 Teaspoon

Butter

1 1/2 Cup (16 tbs)

Dried thyme

1 Teaspoon

2 cups onion, chopped fine

Dried marjoram

1 Teaspoon

Celery

2 Cup (16 tbs)

, thinly sliced

Savory

1 Teaspoon

, dried

9 cups fine dry bread crumbs
Directions
Make a gash in the flat side of each chestnut, place them in a saucepan with boiling water to cover, and simmer for about 5 minutes.
While nuts are still hot, remove shells and inner brown skins.
Cover chestnuts with more boiling water and cook slowly for 20 to 30 minutes or until tender.
Drain and chop coarsely.
Melt butter in a saucepan, add onions and celery, and saute until limp.
Add bread crumbs to vegetable butter combination and mix thoroughly.
Then add salt, thyme, marjoram, and savory, mixing them in well.
Add the chestnuts.
This is enough stuffing for a 12 to 15 pound turkey.