»

Recipes

»

Seafood

»

Chesapeak Crab Cake
Chesapeak Crab Cake Recipe
My sister likes this easy Chesapeak Crab Cake recipe. It is true that cooking is her hobby. She keeps preparing various types of dishes. But whenever she is very happy. She makes this crab cake .An Interesting fact is that my family also likes this dish very much.It is truly delicious. You must try this Chesapeak Crab Cake recipe.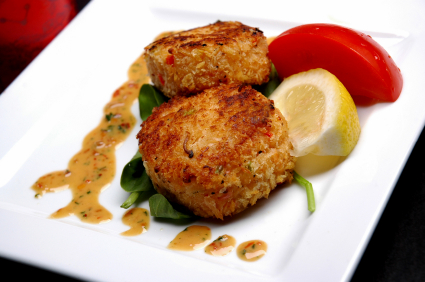 Ingredients
2 lb. Maryland crabmeat

Italian seasoned bread crumbs

2 Cup (16 tbs)

Egg

2 Large

Mayonnaise

1/2 Cup (16 tbs)

Sauce

2 Teaspoon

Dry mustard

2 Teaspoon

Salt

1 Teaspoon

Pepper

1/2 Teaspoon

Butter,
Directions
Stage1-Remove all cartilage from crabmeat.

Stage2- In a large bowl mix bread crumbs, egg, mayonnaise and seasonings.

Stage3-Add crabmeat and mix gently but thoroughly.

Stage4-If mixture is too dry, add a little more mayonnaise. Shape into 12 cakes.

Stage5-Cook cakes in fry pan in just enough fat to prevent sticking, until browned; about 6 minutes on each side.