»

Recipes

»

Indian

»

Cherupayar Thoran
Cherupayar Thoran Recipe
This dish goes well with Kanji or Porridge which then makes it a complete meal.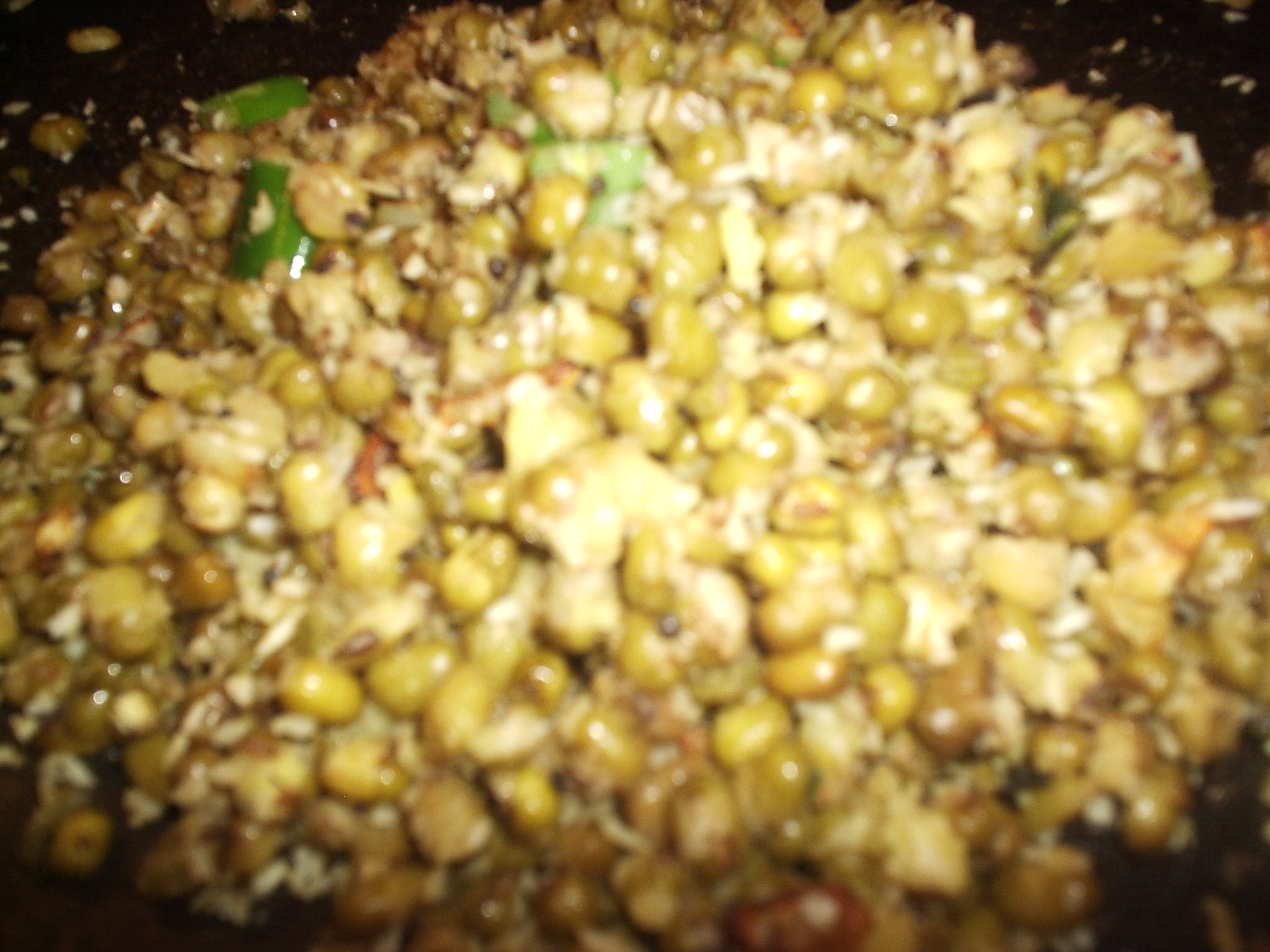 Ingredients
Green gram

1⁄2 Cup (8 tbs)

Chilly

1

, medium diced

Chilly

1

Garlic

2

, finely diced or crushed

Garlic

1

Shallots

2

, finely diced

Shallots

1

Pepper

1 Teaspoon

, crushed

Crushed black pepper

1 Teaspoon

Salt

To Taste

Mustard seeds

1 Teaspoon

Oil

1 Tablespoon

Water

1 Cup (16 tbs)

Shredded coconut

2 Tablespoon
Nutrition Facts
Serving size
Calories 358 Calories from Fat 122
% Daily Value*
Total Fat 14 g21.7%
Saturated Fat 5.7 g28.4%
Trans Fat 0 g
Cholesterol 0 mg
Sodium 233.8 mg9.7%
Total Carbohydrates 46 g15.5%
Dietary Fiber 11.2 g44.6%
Sugars 5.2 g
Protein 15 g30.6%
Vitamin A 12.7% Vitamin C 54.1%
Calcium 12% Iron 30.5%
*Based on a 2000 Calorie diet
Directions
1. Wash and soak the green gram for about 30 mins. Soaking helps cook the dal easier.
2. Pressure cook the green gram with 1 cup of water for about 20 mins in a medium flame and then switch of the flame. Let it sit in the pressure cooker for about 15 mins and do the rest of the cooking.
3. In a hot pan, pour oil, add mustard seeds. Let it splutter.
4. Add garlic and shallots and sauté for about 1 min.
5. Add the chilly and curry leaves and sauté for 30 sec.
6. Add the cooked green gram, then the coconut and finally the salt and pepper. Stir everything together for about 1-2 mins and then switch off the flame.

Serve hot with porridge or kanji...

I think using green gram sprouts is also a good idea and has a high protein and nutritional value.
Posted on:
1 February 2008 - 4:57pm

Thts true. In that case, I think we just need to saute the grams rather than pressure cooking them...
Posted on:
1 February 2008 - 5:13pm