»

Recipes

»

Cake
Cherry Cake Recipe
Seeing how popular Cherry Cake has become with my family, I can assure that its going to be popular with your family too. The Cherry Cake will make an absolutely delicious Dessert for you. It is always prepared with Cherries as the most essential ingredient. You don't need to think more. Just prepare this Cherry Cake now!
Cherry cake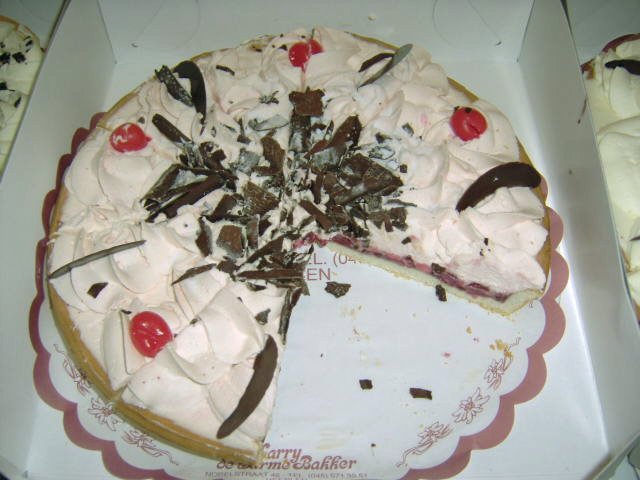 Ingredients
Condensed milk

1⁄2 Can (5 oz)

Flour

1 Cup (16 tbs)

Butter

5 Teaspoon

Water

1⁄2 Cup (8 tbs)

Icing sugar

150 Gram

Red food color

1⁄4 Teaspoon

Cherries

1 Tablespoon

(For Decoration)

Cherries

250 Gram

, preserved

Baking powder

1 Teaspoon

Soda bicarbonate

1⁄4 Teaspoon

Strawberry

1⁄4 Teaspoon

Warm water

1 1⁄2 Tablespoon

Salt

1 Pinch
Nutrition Facts
Serving size
Calories 230 Calories from Fat 38
% Daily Value*
Total Fat 4 g6.6%
Saturated Fat 2.6 g13.1%
Trans Fat 0 g
Cholesterol 12.7 mg
Sodium 147.5 mg6.1%
Total Carbohydrates 46 g15.2%
Dietary Fiber 1.1 g4.5%
Sugars 32.3 g
Protein 3 g6.8%
Vitamin A 2.9% Vitamin C 4.8%
Calcium 10.4% Iron 5.3%
*Based on a 2000 Calorie diet
Directions
GETTING READY
1 Preheat the oven to 350F.
2 Line a 12 cm round cake tin with greased brown paper.

MAKING
3 In a bowl, beat the condensed milk, water, melted butter and essence together.
4 In a separate bowl sift the flour with salt, baking powder and soda bicarbonate.
5 Gradually fold into the condensed milk mixture.
6 Add in the chopped cherries.
7 Pour the mixture into the prepared pan.
8 Bake for about 35 minutes.
9 Allow to cool.
10 In a bowl, beat the icing sugar, red color and warm water with a wooden spoon until smooth.
11 If it is too thick, put the bowl over a pan of hot water to soften the icing sugar slightly.
12 Pour it over the cake and allow to set.

SERVING
13 Serve, decorated with cherry pieces.