»

Recipes

»

Cake

»

Cherry Angel Food Cake
Cherry Angel Food Cake Recipe
This Cherry Angel Food cake is really simple and easy. Whether you are a beginner or an expert chef, this cake is one that you would love baking. Try it!!
Cherry Angel Food Cake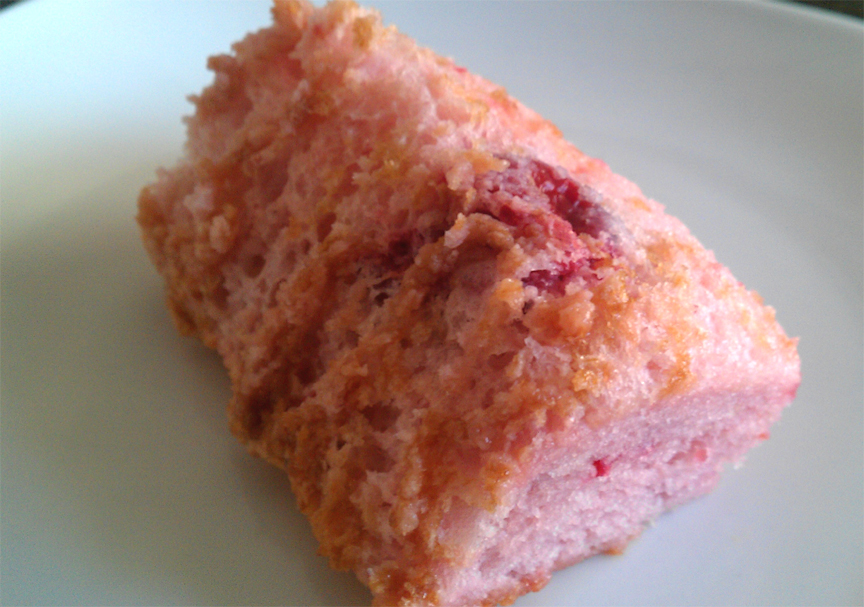 Ingredients
Cake flour

7 Cup (112 tbs)

Sugar

1 5⁄8 Cup (26 tbs)

Egg whites

1 1⁄2 Cup (24 tbs)

Cream of tartar

1 1⁄2 Teaspoon

Salt

1⁄4 Teaspoon

Vanilla

1 1⁄2 Teaspoon

Almond flavoring

1⁄2 Teaspoon

Maraschino cherries

1⁄2 Cup (8 tbs)

, chopped
Nutrition Facts
Serving size: Complete recipe
Calories 5643 Calories from Fat 188
% Daily Value*
Total Fat 19 g29.1%
Saturated Fat 0.05 g0.24%
Trans Fat 0 g
Cholesterol 0 mg
Sodium 1091.4 mg45.5%
Total Carbohydrates 1214 g404.8%
Dietary Fiber 112.2 g448.9%
Sugars 374.7 g
Protein 184 g368%
Vitamin A 1.1% Vitamin C
Calcium 81.7% Iron 6.3%
*Based on a 2000 Calorie diet
Directions
GETTING READY
1) Heat the oven to 375 degrees.

MAKING
2) In a bowl, add flour and 7/8 cup sugar and set aside.
3) In another bowl, add egg whites and cream of tartar and salt and beat till foamy.
4) Slowly add in the remaining sugar, while beating.
5) Beat till the meringue forms stiff peaks.
6) Gently fold in the flavorings.
7) Sprinkle the flour mixture and cherries over the egg whites.
8) Fold only enough to mix.
9) Transfer into an ungreased tube pan.
10) Lightly cut through the batter to remove air pockets.
11) Place in the oven and bake for 30 to 35 minutes.
12) Invert on a funnel till cold.
13) Remove from the pan.

SERVING
14) Frost with white icing.