»

Recipes
Cherry Marmalade Recipe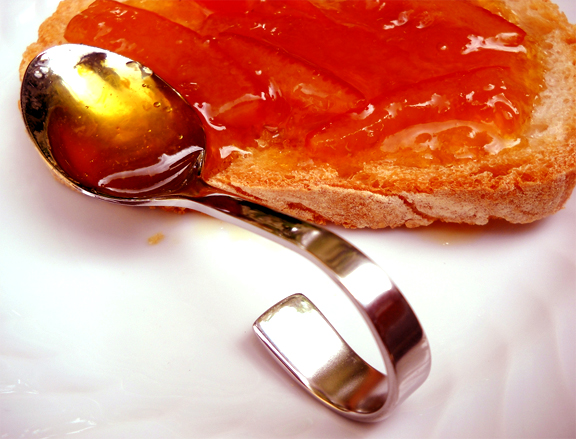 Ingredients
| | | |
| --- | --- | --- |
| | Seeded chopped orange | 2⁄3 Cup (10.67 tbs) |
| | Pitted sweet cherries | 1 Quart |
| | Lemon juice | 1⁄4 Cup (4 tbs) |
| | Sugar | 3 1⁄2 Cup (56 tbs) |
Nutrition Facts
Serving size: Complete recipe
Calories 3516 Calories from Fat 0
% Daily Value*
Total Fat 0 g
Saturated Fat 0 g
Trans Fat 0 g
Cholesterol 0 mg
Sodium 14.1 mg0.6%
Total Carbohydrates 894 g297.9%
Dietary Fiber 22.9 g91.4%
Sugars 844.5 g
Protein 9 g17%
Vitamin A 0.3% Vitamin C 100.9%
Calcium 16.6% Iron 20.1%
*Based on a 2000 Calorie diet
Directions
Cover chopped orange with water and boil in a large sauce pot until soft; cool.
Add cherries, lemon juice and sugar to orange.
Bring slowly to a boil, stirring until sugar dissolves.
Cook rapidly to jellying point, about 35 minutes, stirring frequently.
Pour hot into hot jars, leaving 1/4 inch head space.
Adjust caps.
Process 15 minutes in boiling water bath.