»

Recipes

»

Compote
Cherry Compote Recipe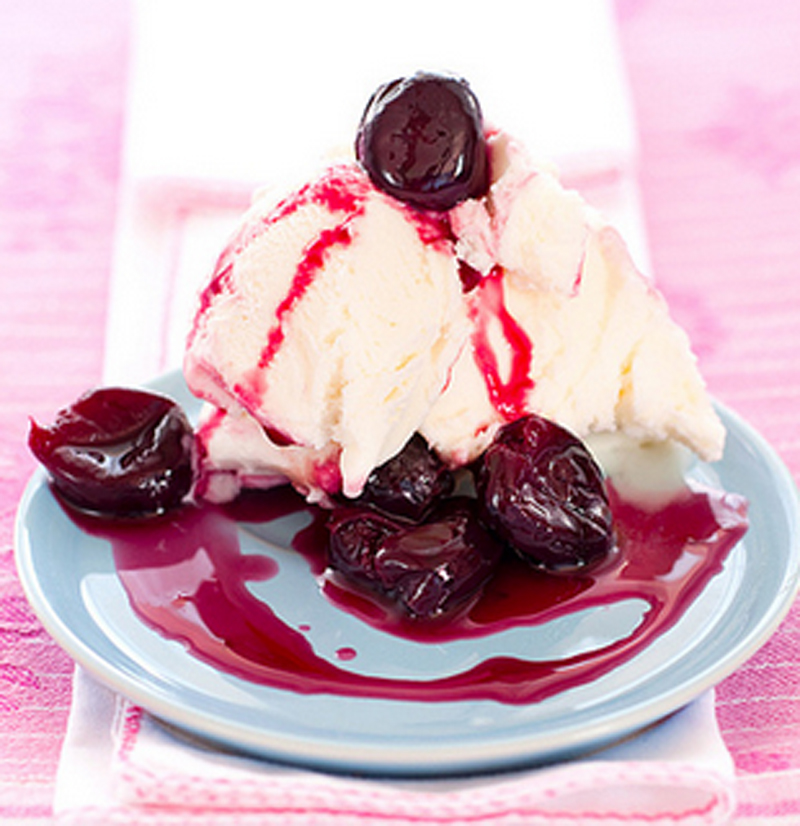 Ingredients
Bing cherries

1 1⁄2 Pound

, stems and pits removed

Sugar

3 Cup (48 tbs)

Vanilla bean

1

, split lengthwise in half

Water

3⁄4 Cup (12 tbs)

Fresh lemon juice

1 Tablespoon

Nonfat plain yogurt/Vanilla bean ice cream

16 Ounce

(For Serving)
Nutrition Facts
Serving size
Calories 372 Calories from Fat 1
% Daily Value*
Total Fat 0.35 g0.53%
Saturated Fat 0 g
Trans Fat 0 g
Cholesterol 1.2 mg
Sodium 34.3 mg1.4%
Total Carbohydrates 94 g31.2%
Dietary Fiber 2.1 g8.3%
Sugars 89.9 g
Protein 4 g7.4%
Vitamin A 1.4% Vitamin C 16.8%
Calcium 4.3% Iron 21.9%
*Based on a 2000 Calorie diet
Directions
MAKING
1) In a heavy medium-size, non-reactive saucepan, place a layer of 1/2 the cherries and spread a layer of 1/2 the sugar. Place the vanilla bean over the sugar and cover with rest of the cherries and sugar.
2) Keep the saucepan aside for almost 1 hour and allow the cherries to macerate.
3) Pour in water and bring the cherries to a boil over a high heat, stirring occasionally. Then simmer on a low heat for about 15 minutes, until the mixture starts to thicken and skim off any suface scum.
4) Stir in the lemon juice and turn off the heat. Discard the vanilla bean and allow the compote to cool to room temperature, then refrigerate until serving time.

SERVING
5) Spoon the compote in dessert bowls, dollop with plain yogurt or vanilla bean ice cream and serve immediately.
Image Courtesy :
http://www.flickr.com/photos/mizzmurray/6005207889/