»

Recipes

»

Fruit

»

Cherry Balls
Cherry Balls Recipe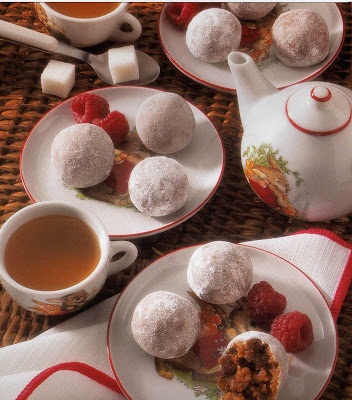 Ingredients
Butter

1 Cup (16 tbs)

Fruit sugar

1⁄4 Cup (4 tbs)

All purpose flour

2 Cup (32 tbs)

Salt

1⁄2 Teaspoon

Finely chopped walnuts/Pecans

1 Cup (16 tbs)

Vanilla

1 Teaspoon

Maraschino cherries

1 Cup (16 tbs)

, well drained

Icing sugar

1⁄2 Cup (8 tbs)
Nutrition Facts
Serving size
Calories 684 Calories from Fat 371
% Daily Value*
Total Fat 43 g65.9%
Saturated Fat 20.5 g102.3%
Trans Fat 0 g
Cholesterol 80.6 mg
Sodium 168.3 mg7%
Total Carbohydrates 71 g23.7%
Dietary Fiber 3.1 g12.5%
Sugars 29.8 g
Protein 7 g14.9%
Vitamin A 19% Vitamin C 0.4%
Calcium 4.7% Iron 14.4%
*Based on a 2000 Calorie diet
Directions
GETTING READY
1) Preheat the oven to 325°F (160°C).

MAKING
2) Cream the fruit sugar and butter together.
3) Stir in the flour and salt, blend well.
4) Then stir in the chopped nuts and vanilla, mix to form a dough.
5) In each teaspoon dough, enclose a maraschino cherry.
6) Place over an ungreased baking sheet and bake in the preheated oven for 15-20 minutes or until light brown in colour.
7) Allow the balls to cool until warm, then roll balls in the icing sugar.

SERVING
8) Serve in a nice plate.
Image Courtesy :
http://moonstarsandpaper.blogspot.in/2007/12/no-bake-gingersnap-balls.html