»

Recipes

»

Cake

»

Cherry Almond Bundt Cake
Cherry Almond Bundt Cake Recipe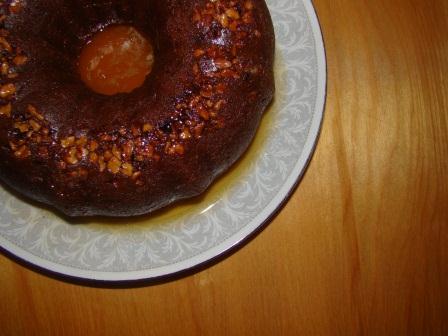 Ingredients
Red candied cherries

2 Cup (32 tbs)

, halved

Almonds

1⁄2 Cup (8 tbs)

, slivered

Margarine

1 Cup (16 tbs)

, softened

Sugar

1 Cup (16 tbs)

Vanilla extract

1 Teaspoon

Almond extract

1 Teaspoon

Eggs

4

All-purpose flour

1 1⁄2 Cup (24 tbs)

All-purpose flour

1⁄2 Cup (8 tbs)

Baking powder

2 Teaspoon

Salt

1⁄2 Teaspoon

Milk

1⁄3 Cup (5.33 tbs)
Nutrition Facts
Serving size: Complete recipe
Calories 5032 Calories from Fat 2054
% Daily Value*
Total Fat 233 g358.3%
Saturated Fat 41.3 g206.7%
Trans Fat 0 g
Cholesterol 853.4 mg
Sodium 2239 mg93.3%
Total Carbohydrates 702 g234.2%
Dietary Fiber 12.1 g48.5%
Sugars 537.7 g
Protein 56 g112.3%
Vitamin A 176.3% Vitamin C 0.36%
Calcium 114.5% Iron 73.9%
*Based on a 2000 Calorie diet
Directions
GETTING READY
1) Preheat the oven to 300°F.
2) Grease and flour a 12-cup Bundt Pan.

MAKING
3) In a bowl, mix together cherries, almonds and 1/2 cup flour. Mix well to coat all the nuts and fruits. Keep aside.
4) In another bowl, add margarine, sugar, vanilla and almond extracts and whio together until light and creamy.
5) Beat in the eggs, one at a time.
6) Sieve together flour, baking powder and salt and combine well.
7) Add the flour mixture and milk little by little into the creamy batter.
8) Fold in the flour-coated nuts and fruits. Mix well.
9) Pour the cake batter into bundt pan and bake for about 55 minutes or until the cake is done.
10) Let the cake cool for about 10 minutes before unmoulding.
11) After the cake has cooled down, wrap it well in aluminium foil and store in a cool place for a couple of days.

SERVING
12) Dust icing sugar on the cherry almond bundt cake.
13) Slice and garnish with a cherry on top.