»

Recipes

»

Salad

»

Chefs Salad
Chefs Salad Recipe
Chefs Salad is a unique and winning salad that is perfect for your dinner parties. Surprise your guests with this irresistible salad. I am sure they will love the Chefs Salad.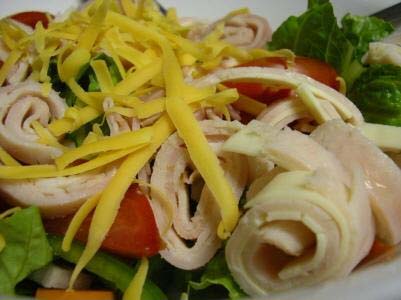 Ingredients
Head of lettuce

1⁄2

Romaine/Endive

1⁄4 Bunch (25 gm)

Chopped green onion

1⁄4 Cup (4 tbs)

Sliced celery

1⁄4 Cup (4 tbs)

Cold cooked meat julienne strips

1⁄4 Cup (4 tbs)

(Such As Beef, Ham, Tongue, Luncheon Meat)

Cold cooked chicken julienne strips/Cold cooked turkey julienne strips

1⁄4 Cup (4 tbs)

Swiss cheese julienne strips/Julienned anchovy strips

1⁄2 Cup (8 tbs)

Mayonnaise

1⁄4 Cup (4 tbs)

French dressing

2 Tablespoon

Ripe olives

4

(Dressing)

Hard cooked eggs

1

, sliced (Dressing)
Nutrition Facts
Serving size
Calories 681 Calories from Fat 488
% Daily Value*
Total Fat 55 g84.2%
Saturated Fat 16.2 g81%
Trans Fat 0 g
Cholesterol 219.4 mg
Sodium 451.6 mg18.8%
Total Carbohydrates 11 g3.8%
Dietary Fiber 2.8 g11.4%
Sugars 5.3 g
Protein 36 g71.5%
Vitamin A 181.2% Vitamin C 53.2%
Calcium 54.5% Iron 12.8%
*Based on a 2000 Calorie diet
Directions
Tear greens into bite-sized pieces.
Toss greens with onion, celery, meat, chicken, cheese, and anchovies, reserving a few strips of meat, chicken, and cheese for garnish.
Just before serving, toss with dressings.
Garnish with reserved julienne strips, ripe olives, and hard-cooked egg.