»

Recipes

»

Salad

»

Chefs Salad
Chefs Salad Recipe
Chefs Salad is a unique and winning salad that is perfect for your dinner parties. Surprise your guests with this irresistible salad. I am sure they will love the Chefs Salad.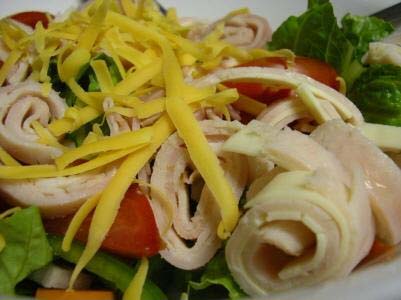 Ingredients
Head of lettuce

1/2

1/4 bunch romaine or endive

Green onion

1/4 Cup (16 tbs)

, chopped

Celery

1/4 Cup (16 tbs)

, sliced

Cooked

1/4 Cup (16 tbs)

, julienned

1/4 cup julienne strips of cold cooked chicken or turkey

1/2 cup julienne strips of Swiss cheese fillets of anchovy, if desired

Mayonnaise

1/4 Cup (16 tbs)

2 tbsp. French

Ripe olives

4

(Dressing)

1 hard-cooked egg,sliced
Directions
Tear greens into bite-sized pieces.
Toss greens with onion, celery, meat, chicken, cheese, and anchovies, reserving a few strips of meat, chicken, and cheese for garnish.
Just before serving, toss with dressings.
Garnish with reserved julienne strips, ripe olives, and hard-cooked egg.